With over 8.5-million registered drivers in Illinois, automobile accidents are a common occurrence on Illinois roads. An accident is even more likely to occur if a person lives in a densely populated and well-traveled area like Chicago.
Illinois roadways can present unique challenges that are often difficult to navigate; to a new teenage driver and also, an experienced commuter alike. These hazardous road conditions can lead to auto accidents and serious personal injuries.
Every injured auto accident victim should contact a Chicago auto accident attorney who will analyze the specifics of their situation and also, determine a course of action that will obtain them a proper financial settlement.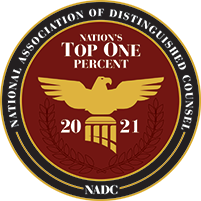 Illinois Car Accident Laws
A car accident could potentially produce severe injuries that can also lead to a long recovery process. This recovery can put a significant strain on a person's finances and can cause serious stress for that person's immediate family. The pursuit of a claim created by a car accident requires a deep understanding of all the relevant law, including rules of the road, insurance, and also, medical liens. No car accident victim should take on this tangled web of laws as well as the insurance companies all alone, especially when the insurance companies are supported by teams of lawyers.
The potentially life-altering consequences from a serious automobile accident make it even more important that an accident victim immediately get the advice and counsel from a personal injury lawyer after an accident. For example, many people do not know that there is a two-year time limit for filing a lawsuit. It is not uncommon for accident victims to believe that they will reach a settlement with the insurance company only to learn that the process has taken so long that their statute of limitations has expired and their right to recover for their injuries is gone.
The complex web of laws related to automobile accidents makes it vital for accident victims to retain the services of an experienced car accident attorney in Chicago who will accurately explain the legal process and also, guide them through every decision along the way.
TOP FREQUENTLY ASKED QUESTIONS
How do I get my car fixed?
A lot of people rely on a vehicle to run errands and to drive to work, attend classes or meet out with friends. But if your car is wrecked in an accident, then what are you supposed to do? At Lerner and Rowe, we understand that after an accident you need your vehicle fixed as soon as possible. Or if it is beyond repair, that you get a settlement check to replace the one you lost. You can rest assured that our legal team will work hard to resolve your case in a timely manner and get you the most you deserve so that you can back on the road.
How do I get medical care for my injuries?
After an accident, getting immediate medical treatment for your injuries is essential. For those that do not have health insurance, this can be a huge cause for concern.

However, our law firm is well connected with physicians at every level of the medical care spectrum. Those connections in most cases make it possible for us to help you get immediate medical care for treatment of accident-related injuries, whether or not you have medical insurance.

How much will it cost me?
Your initial consultation is always free at Lerner and Rowe Injury Attorneys. Also, our personal injury fee structure is based on a contingency basis; meaning that we don't get paid unless you win.
What are your hours of operation?
Our offices are open Monday – Friday, from 8:00 a.m. to 5:00 p.m. For after hours assistance, please contact us 24/7 by calling us directly or through our convenient Live Chat.
Will I be meeting with an attorney?
Yes, every client of Lerner and Rowe Injury Attorneys meets with a lawyer. Your claim / case is also assigned a team of legal professionals that will assist your primary attorney.

These legal professional include intake specialists, case managers, accounting professionals and paralegals. Processing your claim / case through multiple channels helps ensure that each task associated with your claim / case is handled by the most qualified person.
How long will it take to receive a settlement?
The time it takes to receive a settlement can vary greatly depending on the extent of injuries and medical treatment.
How much is my car accident injury case worth?
The value of each injury case varies based on the extent of injuries and insurance coverage.
---
Determining Fault in a Auto Accident
After a auto accident, the responsible party often attempts to deflect their liability and claim that the injured party is either completely or partially at fault for the accident. Insurance companies use such claims about liability to deny claims by injured accident victims.
When situations like these arise, Illinois law uses a system called modified comparative fault to apportion the responsibility for damages caused by a car accident. This means that a person can receive damages only if the other party is determined to be more at fault. However, the damages awarded will be lessened by the percentage determined to be their share of liability for the accident. An accident victim who was 30% responsible for the accident will also have their recovery reduced by the same percentage.
After suffering an injury in an accident, a hurt driver may receive pressure from the insurance company for the responsible driver to settle quickly. While settling quickly and getting money fast may be tempting, an accident victim who settles quickly and without the protection of an experienced Chicago auto accident attorney usually settles for too little and before they understand the full extent of their injuries, the final amount of their medical bills, or the full value of their claim. By obtaining the services of a well-versed attorney, a person places their trust in a legal professional who will advocate for their rights and also, make sure that a fair settlement is reached.
How a Lawyer Can Help You
The injured victim of another driver's negligence must not leave their fate to chance. By retaining the services of a Chicago auto accident attorney, injured accident victims create the best chance for a positive outcome and also, tilt the odds in their favor and against the insurance company.
An auto accident attorney carefully reviews all the evidence of the case at hand and creates a strategy that will present the claim in the most favorable light to the insurance company or defense attorney and also, provides a direct answer to every challenge they present to the claim. The burden of addressing the insurance companies and also, their challenges falls on the attorney; so that the accident victim can focus on repairing their life and getting back to a normal daily routine. The most valuable non-legal service we provide is to carry the emotional burden of our clients so that they can focus on recovery.