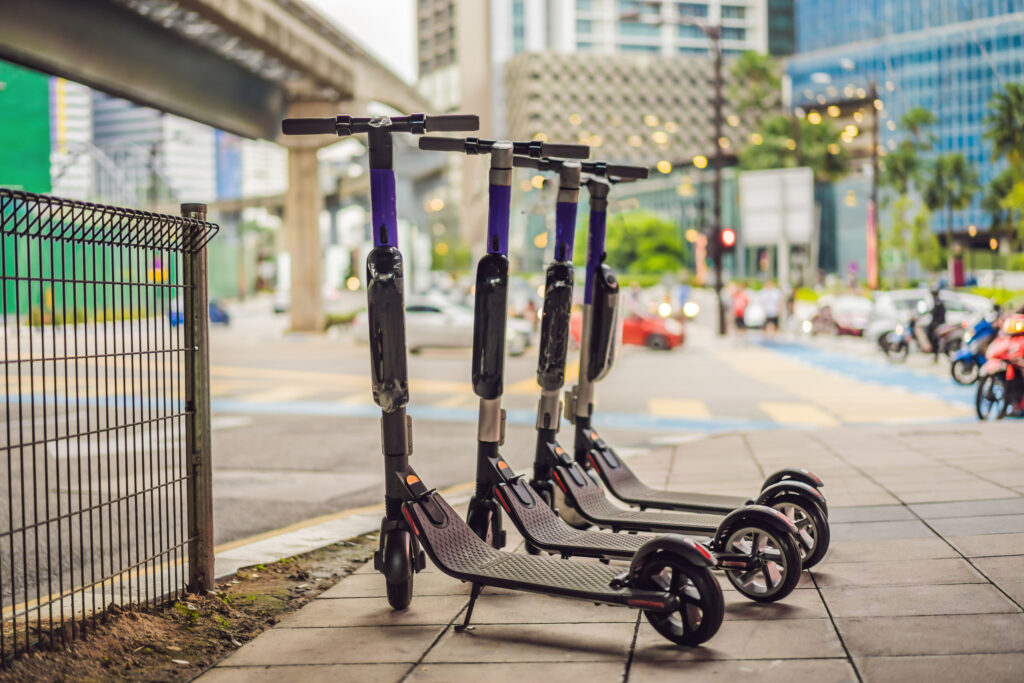 Scooter Injuries Attorney
Nashville has been aggressive in welcoming dockless scooters. On paper, these electric scooters for rent give people in the Nashville metropolitan area a convenient way to quickly zip around the city, while simultaneously reducing automotive congestion. Unfortunately, the city's real-life pilot program for dockless scooters may have been too ambitious, with seven companies operating more than 4,000 scooters. With 4,000 new ways to get into accidents and local scooter laws in a state of flux, it's important for you to know a proficient Nashville scooter injuries attorney like the ones at Lerner and Rowe, just in case you get in a wreck.
What are Dockless Scooters?
Dockless scooter services offer their customers a way to quickly find transportation over short distances. Scooters are also a convenient mode of transport in Nashville as users can easily establish an account and unlock a scooter rental. Further, scooter companies leave their two-wheeled vehicles in high-traffic areas where their customers can readily find them to rent and ride.
When the customer gets to his or her destination, they then use the scooter service's app to indicate that their ride is complete and leave the scooter on the sidewalk for the next customer to rent. This is commonly referred to as lock-and-leave.
While having more than 4,000 scooters in medium-sized city like Nashville offers people a convenient choice of transportation, some people resent the lock-and-leave nature of dockless scooters. They consider dockless scooters an eyesore at best and a potential cause for a personal injury at worst.
New Transportation = New Ways to Suffer a Personal Injury
Dockless scooters first became available in Nashville in late 2017. They were touted as a new, convenient, and environmentally-friendly way to expediently move about the city. The dockless scooter boom led to large companies launching their services in Nashville, including Lime, Bird, Ford, Uber, Lyft, and Gotcha.
The burgeoning scooter business added a new type of traffic accident to the mix, with roadway dangers to pedestrians and other motorists now coming from both scooter riders and the traditional motorists driving near them.
Electric scooter riders can put pedestrians and motorists at risk by:
Being unfamiliar with the rules of the road
Ignoring driving laws
Driving recklessly
Operating a scooter while intoxicated
In turn, electric scooter riders sometimes have to be wary of motorists. As with many things new, some people harbor resentment towards dockless scooters. Some car, truck, and motorcycle drivers do not give scooter riders the right of way and drive aggressively when scooter riders are near. With scooter laws changing rapidly, it's a bit like the Wild West in busy parts of Nashville.
Thankfully, the Nashville scooter injuries attorney team at Lerner and Rowe is well versed in the city's scooter laws and diligently tracks their potential changes. Whether you're a scooter rider that received a personal injury from someone operating a car, truck, motorcycle, or bicycle rider or a you're motorists that was injured from a reckless scooter rider, the Nashville scooter injuries attorney team at Lerner and Rowe can help you.
Keeping Safe on and Around Electric Scooters
As mentioned earlier, Nashville scooter laws are in flux. The Metro Council has been more aggressive since the death of Brady Gaulke, a man that died while riding a dockless scooter while intoxicated. The city currently follows the rules established by Bill BL2019-1658. However, Mayor David Briley has pledged not to sign the bill, calling for a ban on dockless scooters. This has created an environment of uncertainty for dockless scooter customers and those that drive near them.
Until new laws are set, scooter riders must obey the current laws, operate scooters carefully, and never drive while intoxicated. Motorists should treat dockless scooter riders similarly to bicyclists; they should allow them the right of way and exercise caution when driving near them.
Sadly, accidents will happen no matter how safe everyone is being. A Nashville scooter injuries attorney from Lerner and Rowe can assist you or a loved one that has been involved in an unfortunate accident.
Different Types of Electric Scooter Injuries
People that rent dockless scooters are vulnerable and exposed. Since they're meant for quick trips, electric scooter renters often lack a full set of safety equipment (helmet, knee pads, wrist guards, etc.). Here are some of the most common dockless scooter injuries:
Cuts and bruises
Muscle sprains and strains
Bone fractures
Concussions
Back injuries
In severe cases, such as a scooter crashing into a moving vehicle, drastic injuries like spinal cord damage and paralysis can occur. Under the worst circumstances, a scooter accident could lead to a wrongful death. Contacting a Lerner and Rowe Nashville scooter injuries attorney is imperative if you or a family member have suffered an injury while riding a dockless scooter.
Dockless Scooter Liability in Tennessee
Electric scooter renters in Nashville are often bound by the terms of service they agree to when signing up for an account with the rental company. In most cases, insurance — as in the way people view car insurance — is not part of the agreement. However, if a dockless scooter rider is involved in an accident because of a malfunctioning scooter or defective part then they may quality for a dangerous products lawsuit.
That said, liability for a scooter accident greatly depends on the party at fault and where the accident took place. Here are a few scenarios to consider:
Dockless Scooter Company's Fault: As mentioned above, the scooter company may be liable if the accident was due to malfunctioning equipment or a defective part
Rider's Fault: The rider's homeowners or renters insurance may cover damages
Motor Vehicle Driver's Fault: The driver's car insurance company may cover damages due to the driver's negligence
Pedestrian's Fault: The pedestrian's homeowners or renters insurance may cover any injuries, or you may have to pursue a personal injury lawsuit against the pedestrian
Business' Fault: If the accident is the result of a hazard created by the business or an employee than the company's insurance may cover damages, or you have to pursue a personal injury lawsuit against the business
City's Fault: If the accident was caused by a pothole, road hazards, or poor upkeep then the city may be liable for injuries
As you can see, determining liability in a dockless scooter accident can be very confusing. Thankfully, Lerner and Rowe has proficient Nashville scooter injuries attorney ready to help you. Our team will thoroughly investigate all the available evidence in order to find the best solution for you, while you focus on recuperation.
Contact a Nashville Scooter Injuries Attorney
Although the future of dockless scooters in Nashville is currently a mystery, the fact is that there are currently thousands available for citizens to rent. Until the laws governing dockless scooter companies and the use of electric scooters are settled, getting into a scooter accident can be a complicated and confusing ordeal. The Nashville scooter injuries attorney team at Lerner and Rowe Injury Attorneys is here for you. We'll provide you with the assistance you need in order to get the compensation you deserve. Don't hesitate. Contact us today for a free consultation!

The personal injury attorneys at Lerner and Rowe are available 24/7. You can call us at 615-333-8888 , communicate with us via LiveChat, or use our online form feature. You can also visit us at our office between the hours of 8:00 a.m. and 5:00 p.m. Monday through Friday.