Summer is winding down and many Chicago children return to school before the Labor Day weekend. Some students will be catching a ride on the big yellow buses parents depend on to safely transport their children to and from school, while others will be riding their bicycles or walking. Our Chicago personal injury lawyers remind everyone to pay attention when children are present in order to avoid Chicago school accidents. Here, we'll go over tips for sharing the road with school buses and general safety precautions. These will ensure all children busing, walking or biking to school or back home arrive injury-free.
Know the Danger Zone
Thanks to regulations, school buses are some of the safest vehicles on the road and the safest mode of transportation to and from school, according to the National Highway Traffic Safety Administration (NHTSA). The most dangerous part for bus riders is getting on and off the bus. Loading and unloading accidents are known as danger zone accidents. The danger zone is the area 15 feet around a bus in all directions. This is where children are at the greatest risk from the bus or other vehicles passing by hitting them.
The American Safety Council (ASC) states that most children killed in bus-related accidents are pedestrians between the ages five and seven that are getting on or off the bus. Safe Kids Worldwide (SKW) notes that more than 40 kids are hit by a vehicle while walking, which results in more than 15,000 injured children each year. Everyone should follow safe practices to prevent bus-related child pedestrian accidents, including kids, bus operators, and motorists.
Share the Road
Our Chicago car accident lawyers stress the importance of sharing the road with young pedestrians, bicyclists, and school buses. Motorists can help reduce Chicago school accidents by:
Not blocking crosswalks, which forces pedestrians to go around you and into the path of other motorists
Stopping for pedestrians crossing the street in school zones
Stopping for school crossing guards leading children across the street
Being extra watchful for children around school zones, playgrounds, parks, and residential areas
Never passing around another vehicle stopped for pedestrians
Stopping for School Busses Is the Law
In Illinois, all lanes of traffic must stop when a school bus traveling on a two-lane roadway stops to pick up or drop off children. You must stop at least 20 feet behind the bus to allow passengers to cross the roadway safely. Remain there until the flashing red lights and signals are turned off. Passing a stopped school bus with red lights flashing and/or a stop sign engaged is illegal and can have catastrophic results. Remember, children may:
Become distracted or not pay attention when they start across the road
Dart into the road without looking or warning
Not understand the dangers posed by moving vehicles
Not accurately judge vehicle speed or distance
Be blocked from view by the bus
Expect you to stop for them, even if you cannot see them
Always slow down and be alert for children crossing the street, especially in school zones and other areas where children are likely to be present. It is your responsibility to actively watch for children, who may not be watching for you.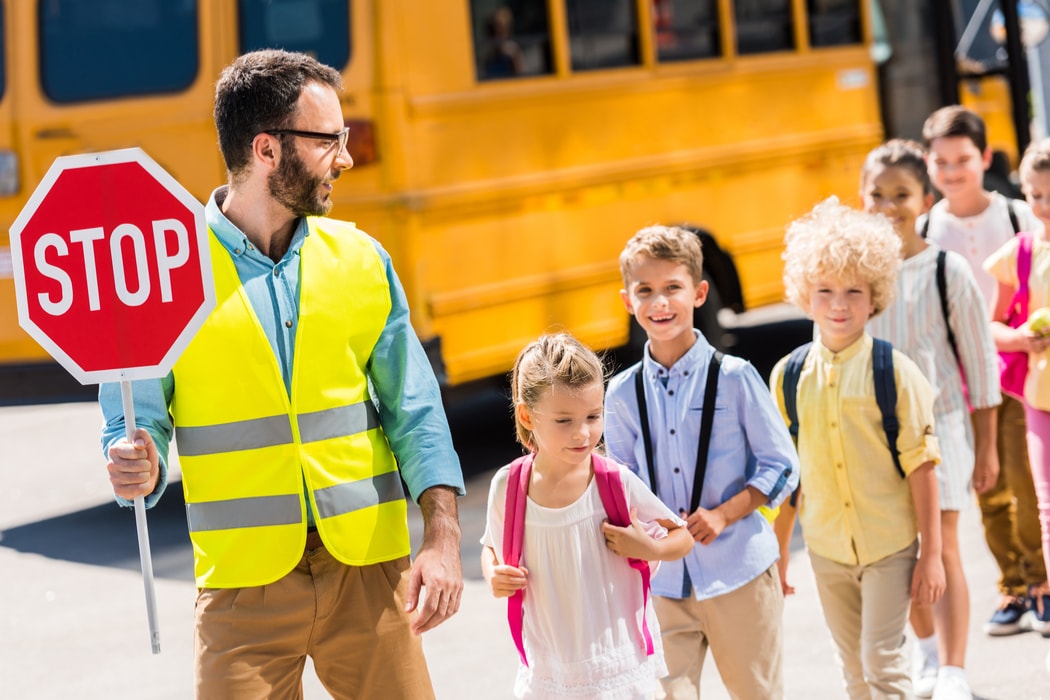 Teach Your Children Pedestrian Safety
The Illinois State Board of Education (ISBE) states that 25 million children in the U.S. ride safely to and from school each year, but despite buses being the safest transportation for students, about 33 school bus-related deaths occur annually. Again, most of these deaths are pedestrians, getting on or off the bus.
Younger children get into Chicago school accidents because they rush, act without thinking, do not stay where the bus driver or other motorists can see them, or assume drivers see them and will wait for them to cross.
If your children, including teens, are walking to or from school or bus stops, especially in heavy traffic areas, go over important safety points with them like:
Never walk distracted – keep your head up and phone down, so you can keep an eye on traffic at all times
Remove headphones and turn music off so you can hear what is going on around you like screeching tires, horns, sirens, or other audible indicators an accident might occur
Always use crosswalks, when available
Look left and right before crossing and continuously scan traffic while crossing
Watch oncoming traffic when crossing roadways, even when you are legally crossing in a designated crosswalk with the walk sign lit
Do not count on every vehicle stopping behind the white line
Pause at each lane and make eye contact with the driver to ensure they see you and are stopping to allow you to pass
Walk facing traffic, as far from the road as possible, when sidewalks are not available
Watch for oncoming traffic that may swerve, because the driver is suffering from distraction or doing something they should not be doing behind the wheel of a car
Contact a Chicago School Accidents Lawyer
If your child has suffered injury in a school-related accident, Lerner and Rowe Injury Attorneys are the personal injury lawyers Chicago parents turn to when their children have been hurt. In a wreck? Need a check?™ We bring experience, skill, and passion to your case. Use our convenient LiveChat, visit our office Monday through from 8:00 a.m. to 5:00 p.m., or call us 24/7 at 708-222-2222 for a free consultation today.
The information on this blog is for general information purposes only. Nothing herein should be taken as legal advice for any individual case or situation. This information is not intended to create, and receipt or viewing does not constitute, an attorney-client relationship.