Bus Accident Lawyers in Phoenix, Arizona
Hurt in a Wreck?
The convenience of riding a public bus in Phoenix can become a burden if you or a loved one is hurt while riding a bus or has been injured while moving to enter or exit a bus.
Our bus accident lawyers and legal staff are familiar with Phoenix transportation laws and are prepared to fight hard to get you any compensation that you may deserve.
---
Common Causes of Bus Accident Injuries
Bus accidents can be caused by many different circumstances. Some of the common causes of bus accidents include a bus driver:
Swerves or brakes abruptly to avoid hitting something
Has distraction and crashes into something
Loses consciousness
Loses control of a bus
Another vehicle wrecks into a bus
A pedestrian steps into a bus driver's blind spot and received injuries
A malfunctioning bus part results in an accident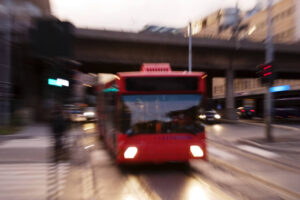 Regardless of the type of bus, any of these situations can result in serious harm, injury or destruction of property.
Involved in a bus accident in the Valley of the Sun and suffered damages or injuries as a result? Contact the Phoenix bus accident attorneys at Lerner and Rowe to discuss your case. Our personal injury lawyers don't cut corners. We take the time to investigate the many details of the accident so that you get the most compensation possible.
---
Let Our Bus Accident Attorney Start Fighting for You!
Just make one call to 602-977-1900, or submit an online case review form today to connect with our Phoenix bus accident attorney. Your initial consultation is FREE, and you won't pay unless we win compensation on your behalf. Don't wait to contact us, one of our representatives will be available to assist you any time day or night.