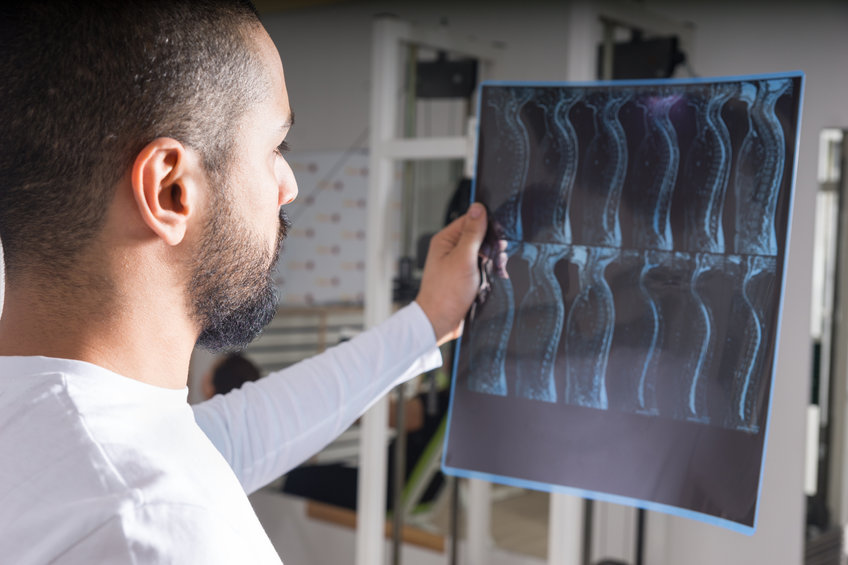 If you're on the hunt for a New Mexico spinal injuries lawyer, no doubt you or a family member recently suffered one of these injuries. Spinal injuries can cause pain and other issues for years to come, and often, the injuries are permanent. In these cases, the victim can no longer return to work, and may lose their independence all together.
The spine injury lawyers at Lerner and Rowe Injury Attorneys may be able to assist you. And, as attorneys who live and work in the state of New Mexico, we understand how to work within the local law to ensure that you and your family's needs are met.
So, reach out to us for a free consultation today at 505-544-4444. We are based out of Albuquerque, but have the ability to also assist those injured in Santa Fe, Roswell, Las Cruces, or Rio Rancho.
---
Common Spinal Cord Injuries
Spinal cord injuries can lead to a loss of sensation and control of the body. And, some injuries are more catastrophic than others. For instance:
Thoracic injuries limit the use of the chest and abdominal muscles.
Lumbar and sacral spinal injuries affect certain lower parts of the body.
Paraplegia affects the lower area of the body due to an incomplete injury.
Tetraplagia (or quadriplegia) affects most of the body, including pelvic organs.
Paralysis can cause the victim to lose control and sensation at and below the point of injury.
Any one of these injuries can lead to a myriad of other problems, like blood vessel damage, chronic pain, infections, and even neurological issues that will never go away. This means you'll face years of therapy and medical care. Seeking compensation can help with the cost of these expensive services.
---
What Accidents Cause a Spinal Cord Injury?
When it comes to spinal cord injury cases in New Mexico, we often see this injury as a result of car accidents. But, they can happen whenever an accident occurs. You can also injure your spinal cord in the following situations:
The commonality between many of these accidents has to do with who caused it. In other words, someone is usually to blame. And New Mexico is an at-fault state, which means that the party responsible is also responsible for covering subsequent costs.
This is where the New Mexico spinal cord injury attorneys from Lerner and Rowe can help. But, why would you need our assistance? Spinal cord injuries can affect you both physically and financially for the rest of your life.
---
How Spinal Cord Injuries Change Your Life
It's no secret that spinal cord injuries affect you physically and neurologically. In turn, they will also affect you and your family financially. After an accident, you may have to pay for:
Prescription costs
Ambulance/helicopter bills
Physical therapy
Cognitive therapy
Medical equipment for the home
Other home additions, like a ramp or chair for staircases
Adapted vehicles
And, there's a chance that you will lose wages while you recover, or entirely. Wondering how you'll pay for all of this while dealing with lost wages? Our team will work to win financial compensation for your injuries and your lost income.
---
How Can New Mexico Spinal Cord Injury Lawyers Help?
It's difficult to manage a lawsuit when you are also focusing on your physical and mental recovery. Contact the attorneys at Lerner and Rowe Injury Attorneys to seek financial compensation for your spinal cord injuries.
A spinal cord injury attorney will investigate your case, and gather evidence around who caused your accident. Then, they will draft a demand letter, and deliver it to the responsible party's insurance company. It's typical for an insurance company to low-ball your initial offer, but your attorney will know what is fair and what is not.
Usually, a compensation amount can be settled outside of court. But, in rare cases, a court date is necessary. In this situation, your attorney will represent you and defend your case. Your attorney will also help make sure that you process your claim within the two year statute of limitations.
---
What Will It Cost You to Work with Our New Mexico Spine Injury Law Firm?
With Lerner and Rowe, there is no fee until you win your case. On top of that, your initial case evaluation and consultation is free.
So, reach out to us today. We are here 24/7 and even on weekends, committed to providing excellent communications no matter the day or time. Call 505-544-4444, text through LiveChat, or fill out this FREE online form. We're serving clients statewide, and are ready to take on your spinal cord injury case.