New Mexico motorcycle accidents have been on the rise from 2014 to 2019. According to the New Mexico Department of Transportation's annual report, motorcyclist fatalities reached a five-year high in 2019 with 59 deaths. Many bike accidents happen for reasons beyond the rider's control, such as reckless driving, roads that are not properly maintained, or defective parts. If you or a loved one have suffered a personal injury due to the negligence or recklessness of another party, then a New Mexico motorcycle accidents lawyer from Lerner and Rowe Injury Attorneys can help you seek compensation.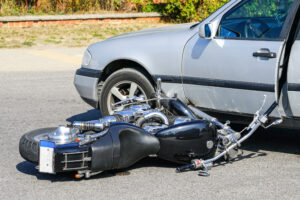 Causes of New Mexico Motorcycle Accidents
Bike accidents in New Mexico happen for a wide variety of reasons. Some causes are the rider's fault, such as inattentive driving, reckless driving, and driver inexperience. The last reason is especially common in New Mexico, since the state grants motorcycle licenses to those as young as 13.
However, many New Mexico motorcycle accidents happen to riders that are perfectly safe. Some of these reasons include:
Distracted Motorists: Some drivers get distracted by their mobile phones, eating, or other activity, which can cause them to crash into motorcyclists
Motorist Failure to Yield: Some drivers may not yield to motorcycle riders
Unsafe Lane Changes: Drivers that do not check their blind spots and mirrors adequately are more likely to hit motorcyclists
Rear-End Collisions: Some motorists do not give motorcycle riders enough room, which can result in a rear-end crash if the motorcyclist suddenly reduces speed due to traffic conditions
Careless Door Opening: Some car drivers fail to look out for motorcycles before opening their door, which can be disastrous to the motorcyclist
Since New Mexico is an at-fault state, the party that caused the accident is responsible for damages. To make sure you get all the money that you're entitled to, you owe it to yourself to work with an experienced New Mexico motorcycle accidents attorney like the ones at Lerner and Rowe Injury Attorneys.
What Are Common Motorcycle Accident Injuries in New Mexico?
Since motorcycle riders are highly exposed and have minimal protection compared to car drivers, the chances of serious injury are high in New Mexico motorcycle accidents. The personal injury lawyers at Lerner and Rowe Injury Attorneys have served motorcycle accident clients that have suffered from:
Broken Bones
Deep Cuts and Lacerations
Internal Organ Damage
Soft Tissue Damage
Brain Injuries
Catastrophic Injuries
Suffering any of the injuries above can cost you a lot of money and time. Many people are unsure of just how much time and money their injuries cost, and are tempted by fast settlements offered by the insurance company. Accepting these "rush settlements" can be a huge mistake. More often than not, insurance companies will offer quick payouts to people that just want to get the matter over with. Unfortunately, these people eventually learn that the payout was worth only a fraction of their expenses.
A New Mexico motorcycle accidents lawyer can help you get compensation for your initial medical expenses, property damage, ongoing treatment, lost wages, pain and suffering, and more. Don't let the insurance company bully you into accepting a low payout. Let one of our experienced personal injury attorneys fight back on your behalf so that you get the compensation that you deserve.
Contact a New Mexico Motorcycle Accidents Lawyer
Getting into a motorcycle accident can be a traumatic experience. The personal injury lawyers at Lerner and Rowe Injury Attorneys take great pride in helping clients carry the weight of that trauma. Let us take care of all of your legal needs so that you can focus on rest and recuperation. Our attorneys have recovered billions total for our clients and have a sterling reputation for customer service, so you can feel assured that you're in good hands when you work with Lerner and Rowe Injury Attorneys.
Our legal team serves people throughout New Mexico, including Albuquerque, Santa Fe, Roswell, Las Cruces, and Rio Rancho. Give us a call today at 505-544-4444 or reach out to us online through LiveChat or secure contact form. Our staff is available 24/7 to assist you. Best of all, consultations are free and you do not pay a cent unless your case is won. To help make sure that you get the highest settlement possible for your New Mexico motorcycle accident, contact Lerner and Rowe Injury Attorneys today.