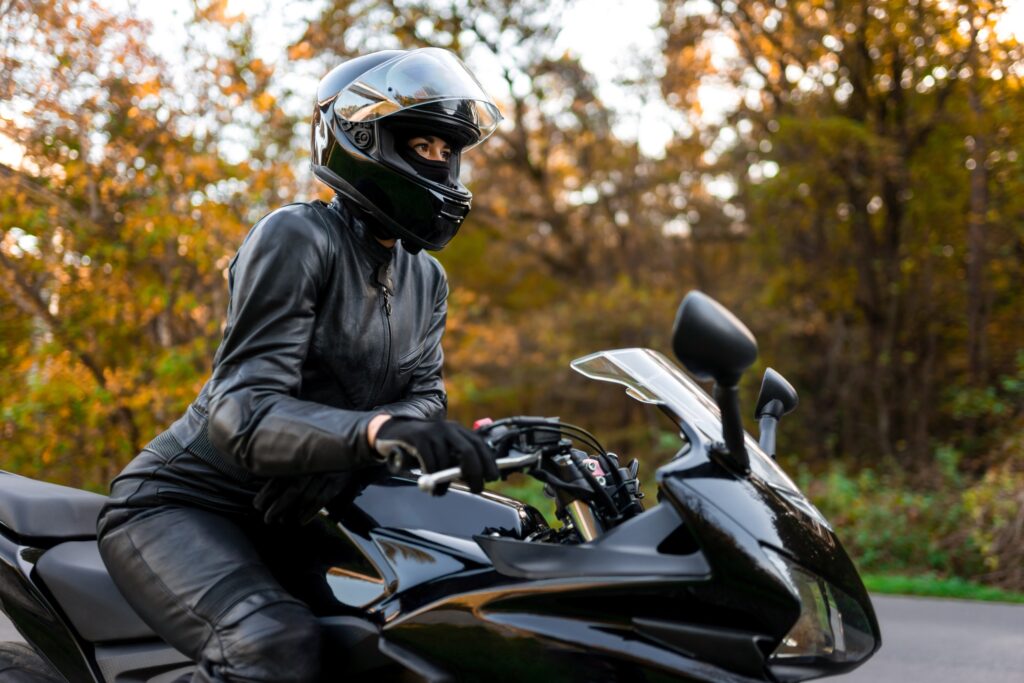 Many people are surprised to learn that Illinois is an excellent place for motorcycle enthusiasts. Naturally, Chicago motorcycle safety is a common concern, and wearing the right equipment can make a huge difference for riders. Your Chicago injury attorneys at Lerner and Rowe can help you learn about legal requirements of motorcycle gear. Regardless of what the law says, there are certain gear choices that can greatly improve your safety while you ride your motorcycle. It is best to make sure you have proper clothing and gear for both yourself and any passengers. With that in mind, here are our team's recommendations.
Helmets Are Essential to Motorcycle Safety
Illinois does not currently have a law that requires riders to wear a helmet while operating or riding on a motorcycle. Even so, wearing a helmet is strongly recommended by our Chicago motorcycle accident lawyers. Bike crashes often lead to hard contact with the ground, and facial injuries are common among riders who choose not to wear a helmet.
Even more importantly, a helmet can protect you from life-altering brain injuries. Studies by the National Center for Biotechnology Information (NCBI) show that helmets decrease the risk of brain injury by 65% to 88%. This is why our Chicago motorcycle accident attorneys vigorously recommend wearing helmets.
Best Helmets for Chicago Motorcycle Safety
That is not to say that novelty helmets are the best choice for Chicago motorcycle safety, because they are not. Lightweight or decorative helmets are much less effective than full helmets at preventing injuries and even death. Make sure the helmet you choose complies with the U.S. Department of Transportation's (USDOT) standards for safety.
Here are a few things you can look for to help you pick out the perfect helmet:
The helmet should have a chin strap. This will keep the helmet secure if you are thrown from your bike during an accident, which is exactly when you need the helmet the most. Further, it can prevent the helmet from sliding around while you drive. A sliding helmet can block your field of vision and pose a serious threat to Chicago motorcycle safety.
The helmet should be heavy. Most helmets approved by the Department of Transportation weigh at least three pounds. Lighter helmets often try to save weight by using a thin outer shell or skimping on the padding. Either one of these approaches to helmet design puts you at serious risk in the event of a motorcycle accident in Chicago.
The helmet should have a visor. This prevents rocks and other debris from hitting you in the face while you drive. It keeps things from getting in your eyes and blinding you while you are operating your motorcycle. Furthermore, in the event of a wreck, the visor will protect your face.
Related: Best Motorcycle Rides in Illinois
Best Clothes for Motorcycle Riders
Leather is a popular clothing choice for motorcycle riders; many riders prefer it because it offers strong protection and timeless style. Leather boots, gloves, jackets, and even leather pants can prevent injuries like road rash in the unfortunate event of a crash. Not only is road burn extremely painful, but it can also be dangerous. Road rash opens the skin up to infections, some of which can come with serious health risks. Here is a full checklist of items that can help keep you safe:
Eye protection: this should be part of your helmet anyway. If your helmet does not include eye protection, consider getting a new one. At the very least, get goggles.
Protective jacket
Gloves to prevent hand injuries from debris or a fall
Durable pants
Protective boots
Rain Gear : you never know when bad weather can come in off the lake. Wet roads are a threat to Chicago motorcycle safety.
Contact a Chicago Motorcycle Accident Lawyer
If you have been injured in a motorcycle accident in Chicago then call Lerner and Rowe Injury Attorneys at 708-222-2222 to talk about whether you may be entitled to compensation. Our office hours are from 8:00 a.m. to 5:00 p.m., but we are available 24/7 to take your call. You can also contact us online via LiveChat to discuss your case and begin your free consultation.
The attorneys at Lerner Rowe have been helping accident victims for more than 30 years. In addition to having a proven track record of billion-dollar results, our staff takes great pride in doing everything possible to help our clients carry the burden of their injuries. Our combination of outstanding settlements and stellar customer service is why Lerner and Rowe Injury Attorneys is one of the most trusted law firms in the nation. Give us a call today and you'll quickly learn how we've earned that reputation.
The information on this blog is for general information purposes only. Nothing herein should be taken as legal advice for any individual case or situation. This information is not intended to create, and receipt or viewing does not constitute, an attorney-client relationship.