Motorcycles have all of the speed and none of the protections of car. With that in mind, it should come as no surprise that motorcycle accidents can cause serious injury and even death to riders. The National Highway Safety Traffic Administration (NHSTA) reported 5,172 motorcycle accidents in 2017.
The NHSTA's data also showed that motorcyclists are many times more likely to die in a crash than the occupants of a car. Still further, motorcycle drivers suffer many more injuries per mile traveled than the occupants of a car. These startling numbers clearly show that motorcycle accidents pose serious threat of injury and death to those who choose to operate one.
Accidents of this type can result in devastating injuries that can instantly place a motorcycle accident victim in a difficult financial bind. The cost of medical care, rehabilitation, and also, lost wages can cause a person and their family to experience significant financial difficulty. It is essential that an individual in a situation like this take immediate action to protect their rights and retain the services of an established personal injury attorney.
A financial recovery through a claim or lawsuit may be the only means available to a motorcycle victim to fully recover, both medically and financial, from the devastation cause by the accident. A Chicago motorcycle accident lawyer will have the proper knowledge about Illinois motorcycle laws and will be able to formulate the best plan to properly develop the related claim and recover all that a motorcycle accident victim may deserve.
---
Important Facts Regarding Chicago Motorcycle Accidents
The Illinois Department of Transportation reports that in 2016 there were a total of 3,504 motorcycle accidents. Of these accidents, approximately 154 motorcyclists lost their lives and 2,692 suffered injuries. Although it is categorically true that riding on a motorcycle includes an inherent risk, there are certain maneuvers that have a higher risk for serious injury. For example, there were 1,920 motorcycle accidents where the motorcyclist was simply going straight ahead.
There were also 385 motorcycle accidents where the motorcyclist was skidding and losing control, along with 271 accidents where the motorcyclist was stopped in traffic and not moving.
These numbers clearly show that motorcycle accidents can happen at moments when riders least expect them. Not many riders could anticipate a crash when driving straight ahead or when they are stopped in traffic.
This is exactly the reason obtaining the services of a seasoned attorney is so important. A person never knows what could happen, and a Chicago motorcycle accident lawyer will be able to help them.
---
Common Causes of Illinois Motorcycle Accidents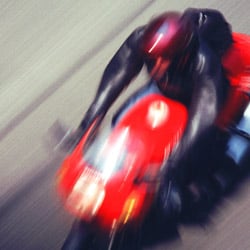 There are a variety of causes that can lead to a motorcycle accident in Illinois. Many of them range from simple maneuvers to complex and dangerous decisions made while on the road. Some of the common causes that warrant the attention of a motorcycle accident lawyer in Chicago include:
Crashes between motorcycles and also stationary objects
Road hazards such as potholes, icy conditions, uneven lanes, and also, debris in the street
Also, driving between two lanes of traffic or lane splitting
Driving while impaired, one of the most dangerous decisions that a motorcyclist can make.
These common causes can often result in motorcycle accidents that have detrimental consequences. Fatalities happen. Even survivors may face severe bodily injuries and head trauma that may permanently change the accident victim's quality of life.
Benefits of An Experienced Injury Attorney
Injured due to a motorcycle accident? You should take proactive steps to protect your future and also get the services of an attorney.
By hiring an attorney, a motorcycle accident victim creates a better chance to receive a favorable settlement from the responsible party and their insurance company, or also, secure a positive outcome in a lawsuit.
A Chicago motorcycle accident lawyer will provide the professional advice and also, service needed to effectively combat the other party's insurance company or legal team. If the goal is to secure a long-term future, then every victim should contact an attorney. Contact us 24/7 for a free consultation.