Get Help Proving Fault to Win Your Claim!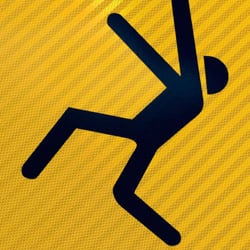 After you or a loved one has been injured in a slip and fall or trip and fall accident, you need to contact a personal injury attorney as soon as possible. Our Yuma slip and fall attorneys will be able to help establish burden of proof, show who was at fault and seek compensation for any significant injuries or damages.
Establishing burden of proof, who was at fault at the degree of your injuries will help determine how much compensation you may be entitled to receive.
Time is not on your side when it comes to reporting a slip and fall accident injury. Schedule a free consultation with a Lerner and Rowe Yuma slip and fall accident lawyer today. Call or submit a free online case review form.
What is a Slip and Fall Injury?
A slip and fall or trip and fall injury occurs when your foot makes contact with an uneven, slippery, unstable or loose surface that causes you to lose your balance and fall down. Types of slip and fall injuries include:
Twisted ankles
Twisted legs
Torn muscles
Broken Bones
Concussions
A few items that you as an injury victim can collect that may help us win compensation for injuries and damages after a slip and fall include:
Copies of photos taken at the accident scene showing the cause of injury.
Names and contact information of any witnesses.
Copy of an incident report if there was one filed.
Copy of medical receipts and records for medical care after the slip and fall.
Contact Lerner and Rowe's Yuma Slip and Fall Attorneys!
You should not delay contacting our Yuma slip and fall attorneys for fear of attorney fees. Your initial consultation with one of Lerner and Rowe's Yuma personal injury law firms is free. Plus, you won't pay unless you win. Don't delay!
Call 928-344-6200 to schedule a free initial slip and fall case review, submit an online case review form today, or chat with a live representative now. Don't let the fear of costly attorney fees stop you from contacting us. The consultation is free and you won't pay unless you win.