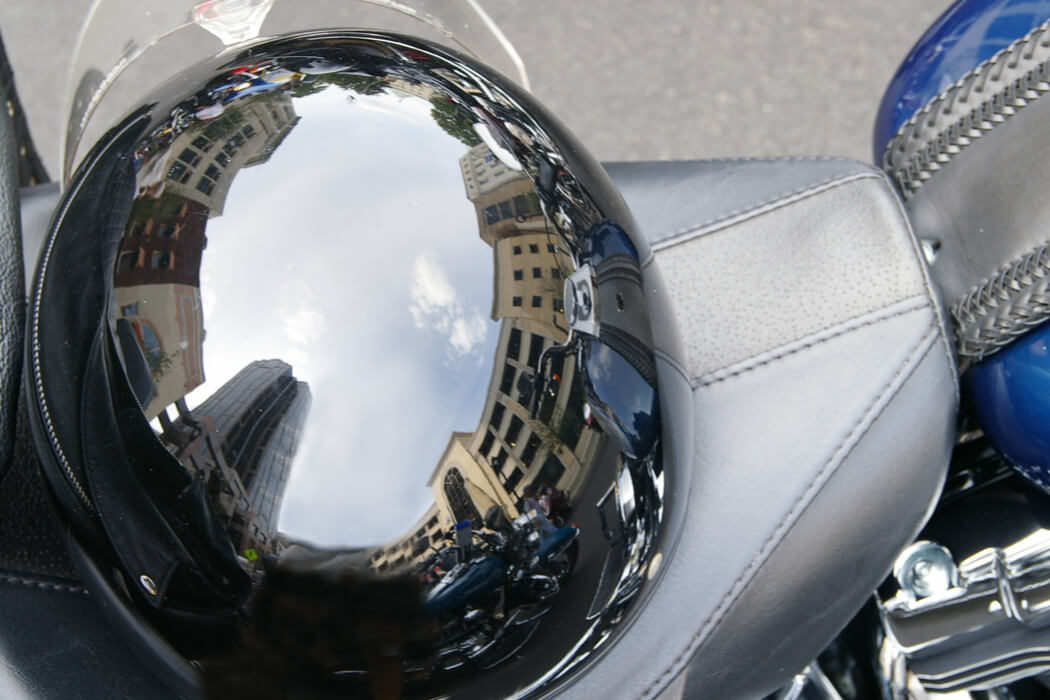 There are three states in the US that have no official law enforcing helmets use: Illinois, Iowa, and New Hampshire. That means Chicago helmet laws don't actually exist. However, a judge may find a motorcycle driver "negligent" for not wearing a helmet during a traffic accident. So even if the accident is not your fault, you may share part of the responsibility for your own injuries because you did not wear a helmet.
What's interesting is that even though Chicago doesn't have helmet laws, we do have an eye protection law: "Both driver and passenger must make use of glasses, goggles, or a transparent windshield," says IDOT.
Helmet Use in Chicago
A 2017 study titled Motorcycle Helmet Usage in Illinois was released by IDOT (Illinois Department of Transportation) following its June 2017 observation of motorcycles operating on roads throughout the state. The survey collected data between 7:00 a.m. and 6:30 p.m. These times ensured the light was adequate for observation. IDOT surveyed freeways, state and interstate highways, county roads, and a sample of residential streets.
Of the total 1,692 motorcycles/passengers observed, thirty-five were in Chicago and 63 were in Cook County.
According to the 2017 study, the city of Chicago had the highest helmet usage rate at 51.1 percent. Cook County had the second highest helmet usage at 49.3 percent. However, The bad news is, despite our local government's efforts, too many accidents involving cyclists still occur in Chicago. The five-year average of bike fatalities in the city stays at 6.2. This is closer to, but not close enough to the Vision Zero goal of removing all cycling deaths by 2026.
To Wear? Or Not to Wear?
In Chicago, people who ride bikes, scooters, or motorcycles for work are the only ones that have to wear protective headgear by law.
It can be said to be circular logic, but no-helmet proponents insist that if wearing a helmet is mandatory, it will lower the number of cycle riders in Chicago. If there are fewer bikers on the road, vehicle drivers will not see them often enough and lose their ability to easily see them on roadways. Therefore, bike riders will be at greater risk for accident and injury.
Another argument is, requiring helmets makes bicycling a "specialized" activity rather than a common means of transportation. No-helmet proponents say if the state enacts a helmet law, fewer children will ride their bikes to school as a result. They simply don't want to wear a helmet.
Lerner and Rowe Injury Attorneys' Stance on Chicago Helmet Laws
As personal injury professionals, we don't want you or your loved ones to suffer the physical injury or emotional trauma. Especially not as a result of any kind of traffic accident. In this regard, if you believe a helmet is the safer way to operate a motorcycle or bicycle, we encourage you to wear one. We will also support your right to not wear a helmet as long as it continues to remain consistent with Illinois law.
In a Wreck? Need a Check?™
With or without Chicago helmet laws, one fact remains true: It takes time and money to recover from a bike accident. Personal injuries and motorcycle repair can be expensive. At Lerner and Rowe Injury Attorneys, you will find knowledgeable professionals who bring experience, skill, and passion to your case. Consultations are free plus there's no fee unless we win your case.
We welcome visitors! Stop by our offices in Chicago (in the West Loop on Lake Street, on East Cermack Road, or on Halsted Street), Joliet, Elgin, or Waukegan.
Call 708-222-2222 or contact us to learn more about Chicago helmet laws. We are open 8:00 a.m. – 5:00 p.m. Personal injury recovery is our business. Yet, sometimes you don't want to wait until "business hours" to ask a question, so our LiveChat is available 24/7.
We are here when you need us.
The information on this blog is for general information purposes only. Nothing herein should be taken as legal advice for any individual case or situation. This information is not intended to create, and receipt or viewing does not constitute an attorney-client relationship.