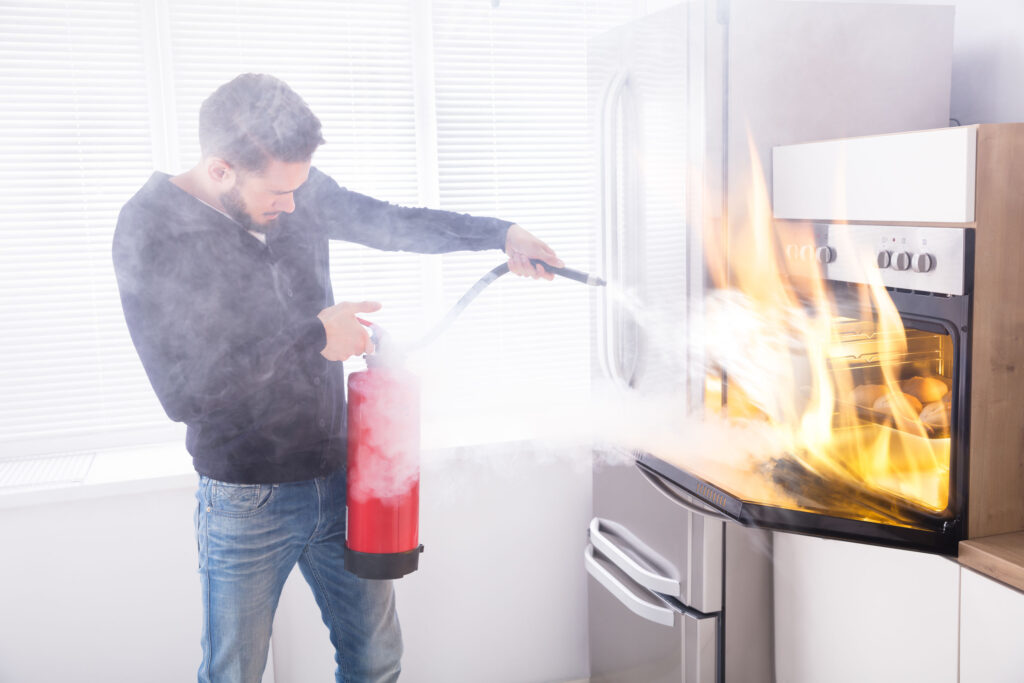 Fire Prevention Week takes place from October 3 – 9, 2021. Organized by the National Fire Protection Association (NFPA), this annual event is a good time to review your safety practices to make sure that your household is prepared in the event of a fire. While there are many simple things that you can do to avoid fires and burn injuries, inspecting and maintaining your home's safety equipment should be at the top of the list.
In the guide below, our Chicago personal injury lawyers review how to properly maintain your home fire extinguishers and smoke detectors. While we hope that you never have to use your fire extinguisher and that your smoke detector never goes off, it's important to ensure that you know about fire extinguisher safety and how to conduct a smoke detector inspection.
How to Inspect Your Fire Extinguisher
First things first, you should make sure you have enough fire extinguishers for your home.
As a general rule of fire extinguisher safety, you should have a minimum of one fire extinguisher for every floor of your house. It's a good idea to keep one near the kitchen, the garage, and any significant source of heat. To inspect your fire extinguisher properly, check for the following:
Make sure that the fire extinguisher is easily accessible and visible.
Check to see that the locking pin is intact and the tamper seal is unbroken.
Check the pressure gauge to make sure that the fire extinguisher is in operating parameters.
Lift the fire extinguisher to manually check that it's full.
Read the service tag date and make sure that the extinguisher has had its annual inspection.
Fire extinguisher safety can make a tremendous difference for your family's well-being and limit property damage in the event of a fire. The simple steps above will make sure that this hugely important piece of safety equipment is in working order when you need it the most.
How to Inspect Your Smoke Detector
Smoke detector inspection is an often overlooked part of home safety. Neglecting your smoke detector can be a huge mistake. According to the NFPA, 3 out of 5 home fire fatalities result from homes with defective fire alarm systems or no smoke detectors. Fire Prevention Week is an excellent time to make sure that your smoke detectors are in working order. Here's what you need to do to conduct a thorough smoke detector inspection.
If your smoke detector has a "test" button, be sure to run it monthly.
Clean your smoke detectors regularly; dust, cobwebs, and debris can interfere with performance.
Replace the batteries; this should be done every year and you can use Fire Prevention Week or the end of daylight saving time as your yearly reminder.
Check the date of your smoke detector, as many models require replacement after 8-10 years.
Never disable smoke detectors for convenience, even temporarily.
Having working smoke detectors in your home is vital. They can make the difference between a minor mishap and catastrophic injuries. As the NFPA's data shows, fire alarm systems can make the difference between life and death. Please make sure that your system is in working order.
Legal Help After Suffering Burn Injuries in Chicago
Lerner and Rowe Injury Attorneys hopes that you utilize Fire Prevention Week to review your fire extinguisher safety and smoke detector inspection skills, and to share this knowledge with your loved ones. Check out our blog for more tips on preventing house fires.
Unfortunately, some fires and subsequent injuries occur due to dangerous products or negligent behavior. If you or a loved one have suffered a burn injury because of these reasons, please contact us for immediate legal assistance.
You can reach Lerner and Rowe Injury Attorneys 24 hours a day, 7 days a week. Our team is available by phone at 708-222-2222. You can also contact us online through our secure contact form or via LiveChat. Consultations are free and we collect no fees unless we make a financial recovery on your behalf.
The information on this blog is for general information purposes only. Nothing herein should be taken as legal advice for any individual case or situation. This information is not intended to create, and receipt or viewing does not constitute, an attorney-client relationship.