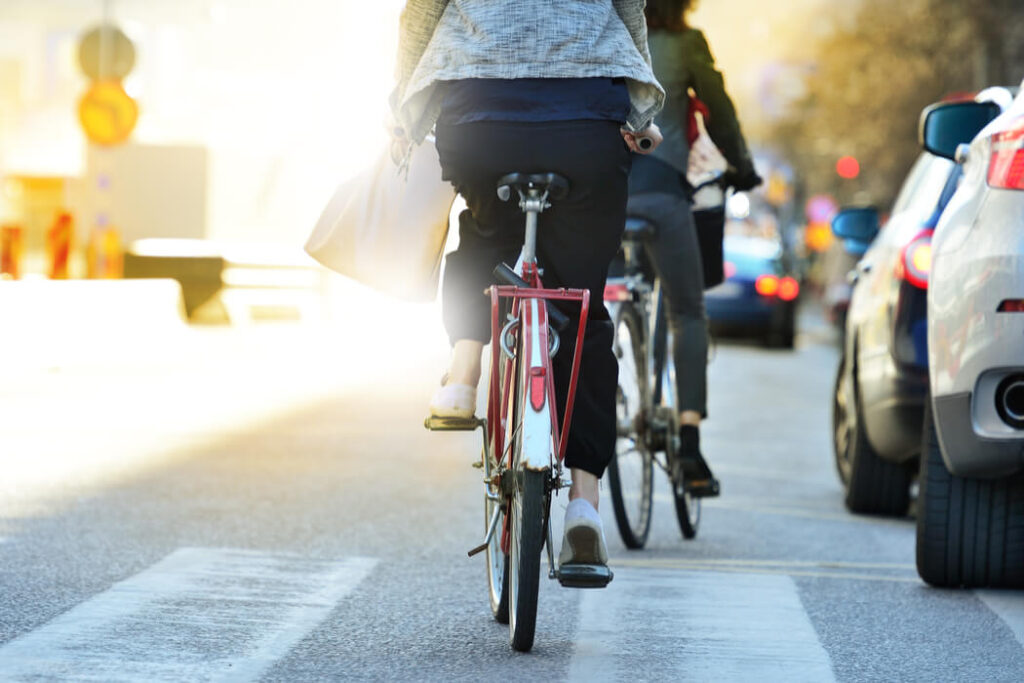 Chicago has a complex system of streets, highways, and expressways. As one of the largest cities in the nation, travel in and around Chicago is constant. It includes all types of transportation. This includes: cars, trucks and trains.
However, bicycles are overshadowed by the long list of motorized vehicles. Bicycles share many roads throughout Chicago. Because bicyclists are out in the open and are more vulnerable to accidents, they face unique safety concerns and risks different than any passenger in a car, truck or train.
According to information from the Centers for Disease Control and Prevention, bicyclists face a higher risk of crash-related injury and death than occupants of motor vehicles. The risks are even greater in urban areas with high populations.
From recreational cyclists, students commuting to school, delivery services and to those environmentally conscious commuters, Chicago has a large population of bicyclists who face great personal safety hazards daily. If a cyclist has been involved in an accident involving a motor vehicle, they should retain the services of a Chicago bike accident lawyer who will fight for their rights and work hard to get them the justice that they deserve.
Illinois Bicycle Laws
Illinois bicycle laws are extremely complex and rapidly change. These laws are important to understand because they are in place to help protect people while on the road and after an accident has occurred.
One of the new laws aiming to further protect bicyclists was passed in August 2016 and became effective on January 1, 2017. This law, commonly known as Dennis's Law, passed the Illinois State Legislature and gives bicyclists the same right-of-way traffic rights as any other vehicle on the road. The new law makes clear that bicycles are considered to be vehicles under the traffic laws.
Even still, if a bicyclist has suffered an injury due to the negligence of another driver, the accident victim must be aware of the other laws and rules that impact all personal injury claims. For example, Illinois law includes a statute of limitations that sets a strict time limit within which an injured accident victim must file a lawsuit to recover damages from the responsible party.
Personal Claims
For most claims, Illinois law provides a two-year time limit for filing within the state's court system. If someone seeks to recover damages through a personal injury claim against a city or county government, a one-year time limit applies. The laws relating to time limits for filing are complex. They change depending upon the type of claim, the party asserting the claim, and the defendant who caused the accident. Time limits to file a lawsuit may differ for a child than an adult.
It is crucial for an injured accident victim to obtain the services of a Chicago bike accident lawyer. An experienced attorney will know the current laws that apply to the unique situation and will thoroughly develop the facts of their case to effectively present the claims either in court or through out-of-court settlement negotiations directly with the responsible party or their insurance company.
What to do After a Bicycle Accident
Bicycle accidents often result in serious injuries and can be very disruptive to the victim's daily life. Most people don't know what to do in these situations. They risk mistakes that can negatively affect the value of their claims and their long-term future.
If in a bicycle accident, then they should:
Get medical attention as quickly as possible
Work with their medical providers to develop a treatment plan
Contact law enforcement and complete a police report
Collect any pertinent information, such as the name and telephone phone number of the driver who caused the accident
Keep detailed notes of what happened at the scene.
Take pictures of their bicycle, their injuries, the vehicle, the accident scene and streets signs and traffic signs.
Following these steps will certainly help protect your rights and put you in a better legal position. These measures will help the Chicago bike accident lawyer present the claim in the most favorable light. It will also create a stronger bargaining position for settlement or a lawsuit.
Consulting With A Chicago Bike Accident Lawyer
The time following a bicycle accident can be very emotional. With medical bills and lost wages mounting, most accident victims fear for their future. Temptations come in the form of a quick solution. With only one chance at a settlement, an injured cyclist should hire an attorney before they sign away their rights.
If you have suffered an injury due to a bicycle accident, contact a Chicago bicycle accident lawyer who can put your mind at ease and give you the patience you need to get you all the compensation you deserve for your injuries. So, don't wait!