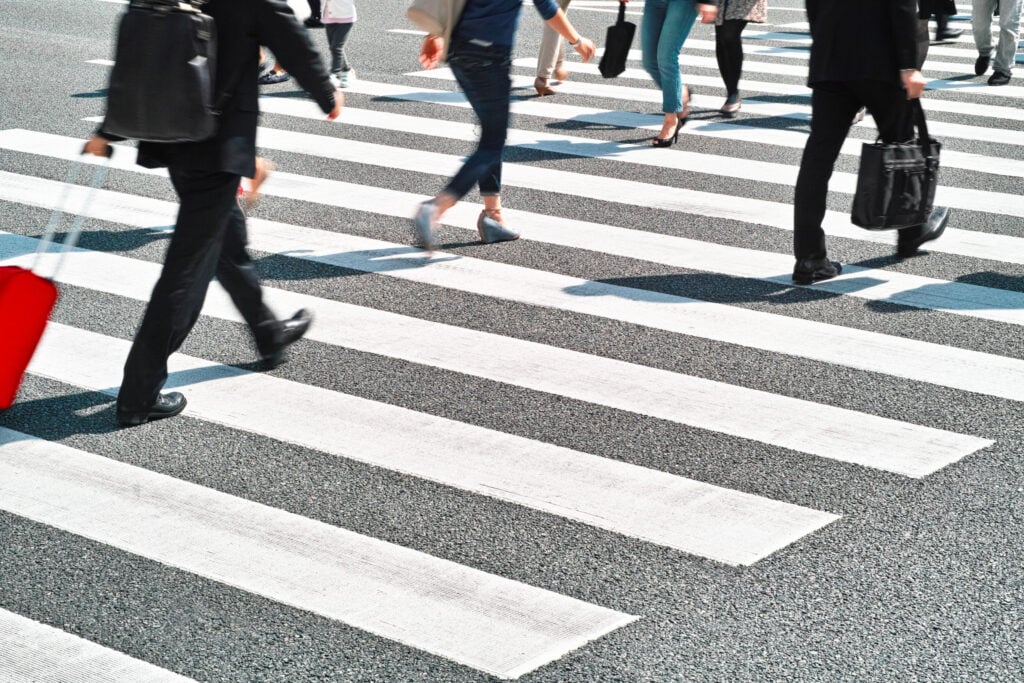 If you've been hit by a car, you know firsthand how traumatic and life-changing a pedestrian accident can be. According to the Governors Highway Safety Association, 42 Nevadans were killed in pedestrian accidents in the first half of 2019, most of them in Las Vegas. Narrow sidewalks, a lack of adequate crosswalks, and driver negligence all contribute to Nevada's ranking as one of the most dangerous states for pedestrians in America.
Whether you are a tourist visiting the Strip or a local commuting to work or school, your whole life may be put on hold after getting hit by a car. Between lengthy hospital stays, mounting medical bills, and lost wages, you may find yourself struggling to get back on your feet in every sense of the word.
With Lerner and Rowe Injury Attorneys, you don't have to do it alone. Filing a personal injury lawsuit against the responsible party can help you obtain fair pedestrian accident compensation after being hit by a car.
Types of Pedestrian Accident Compensation
When it comes to Las Vegas pedestrian accidents, there are several major kinds of compensation (called damages) that injured victims can pursue. The monetary value of these damages is contingent upon the severity of the injury, the financial loss incurred, and various other factors.
Medical Bills
One of the most straightforward damages in a personal injury case is compensation for your medical bills. Oftentimes, even with health insurance, injured pedestrians can be left with staggering costs for hospitalizations, especially if their injuries are severe or require ongoing care like rehabilitation and physical therapy. You may also be able to recover costs for medication, emergency room visits, and follow-up care.
Lost Wages & Earning Capacity
Whether you missed weeks or months of work (or even lost your job due to your injuries), pedestrian accident compensation can include the income you were unable to earn in the immediate aftermath of an injury and in the long term.
Pain and Suffering
The toll that your injuries take on your life can be far more than just financial. Pain and suffering damages compensate injury victims for the discomfort and pain resulting from the accident, from the moment it happens and well into the future. How much you receive for pain and suffering depends on the extent of your injuries and how long they are expected to last.
Pain and suffering can also include emotional distress. After a pedestrian accident, many suffer from anxiety, PTSD, depression, and other mental health conditions. You may receive compensation for emotional distress as well as physical pain and suffering.
Loss of Use / Loss of Consortium
In severe cases, a pedestrian accident may lead to permanent disability stemming from traumatic brain injuries, limb amputation, and other debilitating injuries sometimes referred to as loss of use. Special considerations may be made for injuries with expected lifelong impacts, likely increasing your settlement offer.
Loss of consortium, on the other hand, focuses on the impact of your injuries on family members, particularly spouses and children. If your injuries prevent you from providing companionship or parenting abilities to your partner or children, you may qualify for additional compensation. These damages may also be awarded to family members in cases of wrongful death.
Get the Most Compensation for Your Injuries
To maximize your pedestrian accident settlement, your best course of action is to consult an experienced Las Vegas pedestrian accident attorney. Schedule your free consultation with Lerner and Rowe Injury Attorneys today by calling our Las Vegas office at 702-877-1500.
You can also get in touch with us online using our LiveChat feature, or by submitting the details of your case through our secure contact form. Contact us today—there's no fee unless we win.