ATTENTION:
Veterans who served from 2003 to 2015, used 3M military issued earplugs, and suffered hearing loss or tinnitus may be entitled to monetary damages.
Make Your Claim Now
U.S. military servicemembers who suffered injuries from certain terrorist-backed devices from 2003 to 2011 may be entitled to compensation.
Make Your Claim Now
Car accidents come out of nowhere, happen in a split-second, and can shatter your life. Victims of a car accident must grapple with the financial, physical, and emotional repercussions of the event, plus protect their legal rights to assert a claim for injuries. During such times, victims need an experienced Las Vegas car accident lawyer to guide them through the complex process. To get started on your case or discuss the what steps you should take, consult with a Las Vegas car accident lawyer with our firm today.
---
Impact of An Auto Accident
After a car accident, there are many issues to address: recovering from the injuries and pain suffered in the accident, paying for medical bills, addressing requests from the other driver's insurance companies as well as the routine life demands that existed before the accident.
Insurance companies know that accident victims are under pressure to quickly get back to their daily life, and offer minimal settlement amounts hoping to dispose of any claim quickly.
Although tempting, these initial offers are always well below the true value of the claim and can occur well before an injured victim fully understands the extent of their injuries and the medical treatment they may need.
Even if the vehicle or the others involved in the accident were not totaled, the damage to the driver and passengers – both physical and psychological – can be substantial. A "fender bender" can also lead to significant injuries, some of which become evident only after some time has gone by.
Lastly, mild symptoms such as difficulty sleeping, chronic headaches, forgetting things or difficulty staying organized may be an indication of a traumatic brain injury.
Nevada – NOT a "No-Fault" State
Nevada is a fault state – that is, the state's laws do not restrict an injured party's right to sue and recover for their injuries.  The person who caused the accident is liable for injuries, vehicle damage, and other losses that result.
For all these reasons, those involved in a car crash need to speak with a car accident attorney in Las Vegas as soon as possible after a motor vehicle accident. The lawyer can explain the realities of a client's situation, in terms of claims to be made, the insurance policy against which the claim may be asserted, and the procedure for building and asserting a claim.  An accident injury lawyer will also begin to collect important evidence to support the claim.
It is important to keep in mind that the other parties involved may also seek legal representation and, along with the other insurance company, likely begin building a defense to any claim almost immediately after the accident. Accident injury victims need to seek the advice and counsel of a Las Vegas car accident lawyer to protect their rights and also, build their claim.
Steps to Take Following An Accident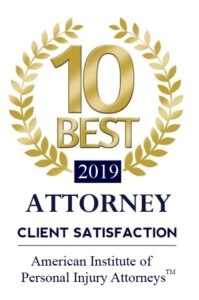 It is very important to gather names, addresses and other information from the other people with personal knowledge regarding the accident and how it occurred – not just the other driver and passengers, but any witnesses to the incident.
Witness testimony is often the most important part of an automobile accident claim when there is a dispute as to the cause of the accident. It is crucial to gather this evidence before individuals disappear from the scene or their memories start to fade.
The more facts available, the greater the chance of winning a claim. What were the weather conditions like? Were there other motorists or pedestrians who played a role in the accident, even if they could drive or walk away?  What traffic signs were posted and also, was there anything in the roadway that did not belong there?  Also, what damage did the vehicle receive in the accident and was the damage photographed?  Was the other driver working or what did the other driver say after the accident?  Were the vehicles moved after the accident but before the police arrived?
Medical Exams
A thorough physical examination by a medical professional immediately after the accident is also very important. Sometimes the full extent of the injuries suffered in the accident are not realized until months later.  It is common that the pain experienced from soft tissue injuries suffered in an accident get worse over time.
An assessment of all injuries by a medical professional is the best way for a victim to heal. Especially when coupled with the development of a treatment plan unique to the individual. That usually includes all medically necessary treatments.  Ignoring pain and injuries will only make the injuries worse and make it more difficult to resolve the claim with the adverse insurance company.
Understanding Las Vegas Car Accident Insurance
Nowadays, all drivers are required to have insurance. Sadly, many do not. What happens then? Is your own insurance adequate? A lot of the language in today's insurance policies is difficult for non-lawyers to fully understand. Attorneys with experience in car accident cases can cut through the legalese and also, explain your options in layman's terms.
Our Las Vegas car accident lawyer will listen to the facts of the situation. They will also guide you through the process of making an insurance claim or filing a lawsuit. Do not wait another day to get the advice you need. So give us a call today! We look forward to hearing from you and also helping you with your case.