Giant trucks cause serious injuries. If you've sustained injuries from a New Mexico accident that involved a big rig, call the personal injuries attorneys at Lerner and Rowe so our legal team can get you the help you need. We'll do everything possible to prove negligence of the responsible party, also ensuring that you receive the compensation you deserve.
Our lawyers will fight for your rights and also, see that representatives of the trucking company or the insurance companies do not bully you into settling for less.
Please contact us by phoning, clicking on our live chat button or you can also fill out a case review form online now.
---
Maximum Compensation for Injuries Resulting From a Semi-Truck Accident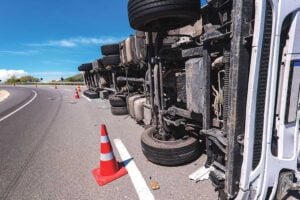 For many years now, Lerner and Rowe semi-truck accident attorneys have been helping large truck accident victims get the maximum amount of compensation for their injuries. We have also helped them recover other damages and financial losses incurred as a result of a major truck accident. We know that accidents involving large trucks or semis can be far more serious and often life altering than a simple car accident.
This is why we do everything possible to thoroughly investigate the accident and also obtain detailed reports from all parties involved. By knowing which questions to ask and also, how to probe for the truth we can ensure that you get the compensation you deserve for your injuries; why you need an experienced truck accident lawyer in Albuquerque representing you!
The types of injuries sustained by victims of large truck accidents:
Amputations
Head injuries
Internal injuries
Whiplash injuries
The kinds of injuries that are not so visible after being in an accident involving a huge truck would be the emotional and also mental suffering that can last quite a long time. In the most serious cases, an accident of this nature can cause the wrongful death of a loved one as a result of their very severe injuries.
---
Contact Experienced Truck Accident Lawyers in Albuquerque Now!
Injured in a wreck with a semi-truck and also need compensation? Lerner and Rowe Albuquerque Injury Attorneys will take over your case without any out-of-pocket costs to you. You will not be charged any legal fees unless we win and recover compensation for you!
Get the legal assistance you need now! Please call 505-544-4444 to speak to an attorney. Fill out a free case review form, or LiveChat with a live representative now. We look forward to working with you and also answer our phones 24/7. So don't wait!
You can count on our Albuquerque truck accident lawyers to fight aggressively for you!