In a Train Wreck? You May Be Eligible for Compensation!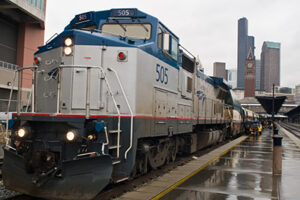 Trains are popular in the Pacific Northwest. From Amtrak to the Monorail, freight trains to Sounder trains, people are coming and going at all hours of the day and night. Millions of people use trains to commute to and from work, to save money on gas, and to save the environment. But what should be easy transit can turn deadly in an instant. Approximately 600 people are killed every year in train accidents in the US, and another 2,500 are injured. If you've been injured in a train accident, don't hesitate to contact Lerner and Rowe. Our empathetic and professional team is ready to handle any case, and our main goal is to get you the financial compensation you deserve. We provide excellent client care, and have your best interests at heart.
Seattle Train Accident Injuries
Seattle train accidents can be minor or catastrophic, with only a few bumps and bruises or dozens of fatalities. It's always best to see a doctor immediately after you're in an accident, whether you're presenting symptoms or not. Sometimes problems can take several days to show up, and you want to have all your medical records ready in case they do. Commuter trains like Amtrak can reach up to 90 mph, while freight trains up to a similar 80 mph. Regardless of whether you're a rider, a pedestrian, or in another vehicle, that's a lot of tonnage at an alarming speed, and injuries can be devastating.
Some injuries from Seattle train accidents may include (but aren't limited to):
Spinal cord injuries
Paralysis
Broken bones
Fractured bones
Disfigurement
Torn tendons
Catastrophic injury
If you or a loved one has suffered an injury in a Seattle train accident, contact Lerner and Rowe. The integrity and compassion of our lawyers is unparalleled, and we won't stop until you're back on your feet with the maximum compensation you deserve.
Contact Us to Get Started Today
Types of Seattle Train Accidents
Many different things can go wrong with a train, whether it's a freight or commuter train. The train can derail off the track, collide with a vehicle, collided with another train, or even hit a pedestrian, cyclist or motorcyclist. Mechanical failure, failure to provide safety mechanisms like positive train control systems, poorly maintained lights or marked crossings, heavy cargo, and human negligence can contribute to train accidents. If a loved one has been killed in a train accident, talk to Lerner and Rowe Injury Attorneys. Our Seattle wrongful death lawyers help you file a wrongful death suit or explore other avenues that will get you the financial compensation you need during this difficult time.
Don't Wait, Call Our Train Accident Lawyers Today!
Dealing with insurance companies is difficult in a normal automobile accident, but when trains are involved – especially government operated train systems like Amtrak – things get very complicated very quickly. Don't do it on your own. Contact us directly at 844-977-1900, or complete a free case evaluation online today. We're available 24/7, and are always ready and willing to take on your case. No case is too small or too large for us to handle. You have nothing to lose. Call us today, or chat with a live representative now.