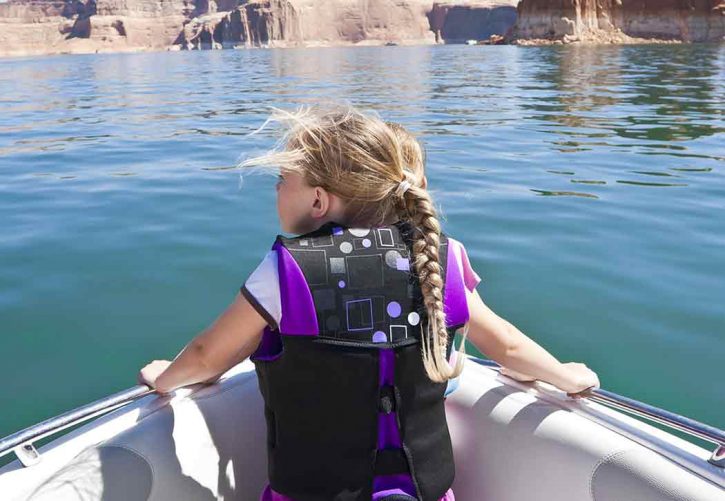 Lake Mead, which is located on the Colorado River, is a popular attraction for Las Vegas residents and tourists alike. Designated as a recreational area in the 1930s, Lake Mead has been a popular destination for boat enthusiasts for decades. Unfortunately, record low water levels have made the waters unfamiliar to people that have enjoyed them for years. The Nevada boating accident lawyers at Lerner and Rowe Injury Attorneys offer the following information and tips to help you stay safe and make the most of your day enjoying the Lake Mead NRA.
What Can You Do in and Around Lake Mead?
Lake Mead has a wide variety of activities to enjoy. Locals and visitors alike can participate in the following:
Boating – Many people like to boat on Lake Mead, and you can relax in a private cove or seek out open waters. If you do not own a boat, you can rent one from a local marina. Just make sure that you are alert and aware of others while entering and departing the lake from a launch ramp.
Swimming – Swimming at Lake Mead is permitted at numerous beaches along the lakeshore only. Swimming is not allowed at all marinas and launch areas. Additionally, lifeguards are not present, so individuals need to know their limits, wear a life jacket, keep a close watch of children to prevent drowning, and be aware of potential dangerous water conditions due to weather.
Scuba diving – Lake Mead National Recreation Area, which includes both Lake Mead and Lake Mohave, is known as one of the top freshwater areas for scuba diving. Depths and submerged hikes range from ones that are appropriate for beginners to those recommended for experienced, technical divers.
Canoeing or kayaking – You can launch a paddle craft vessel along the lake shoreline, except for the designated swim beaches at Boulder Beach, Cottonwood Cove, or Katherine Beach. If you do not have your own canoe or kayak, you can rent one at many places around Lake Mead. You will need to wear a life jacket, have an Aquatic Invasive Species (AIS) decal on your paddlecraft, and follow the Nevada Department of Wildlife boating regulations.
Taking a boat cruise – Enjoy a leisure trip on Lake Mead's cruise boat, which sets off at varying times during the day and evening.
What Laws Govern Drinking and Boating?
Having a few drinks while on the boat is a habit for many people. But, drinking and boating is just as dangerous as drinking and driving. Nevada boating laws and regulations deem you to be operating a boat under the influence of alcohol if you have a blood alcohol concentration (BAC) of 0.08% or more.
The law can also consider you to be operating under the influence if you have used alcohol and/or a controlled substance, and, as a result, you are not able to operate your boat safely. If a judge convicts you for this crime, or you cause the death of or a catastrophic injury to someone else, you could face jail time as well as substantial fines.
What About Reckless Boating?
Reckless boating is negligently operating a vessel in a way that causes danger to another person's life, limb, or property. This can include operating a boat at an excessive speed or creating an excessive wake. It can also include not maintaining a proper distance from other water vessels.
How Can You be Safe While Scuba Diving?
The following tips can help you stay safe while you are scuba diving in Lake Mead:
Receive proper training
Never dive alone
Make sure your diving equipment works properly before diving
Never drink alcohol or take drugs before you go diving
Ascend slowly and do not hold your breath during your ascent
Do You Need Help from Nevada Boating Accident Lawyers?
Call the Nevada boating accident lawyers at Lerner and Rowe Injury Attorneys at 844-977-1900 if you have been injured in a boating accident because of someone else's negligence. Our office is open from 8:00 a.m. – 5:00 p.m., but we are available 24/7 to take your call. Or if you would prefer, reach out to us online via LiveChat.
You will not have to worry about paying any money upfront, because we offer free consultations. Further, you will not pay a fee unless we win your case. In addition to our proven track record of winning great results for our clients, our staff is committed to helping clients carry the burden of their injuries so that they can focus on recovery. Don't let the insurance company deny you money that's rightfully yours. Let the Nevada personal injury attorneys at Lerner and Rowe fight back on your behalf today.
The information on this blog is for general information purposes only. Nothing herein should be taken as legal advice for any individual case or situation. This information is not intended to create, and receipt or viewing does not constitute, an attorney-client relationship.