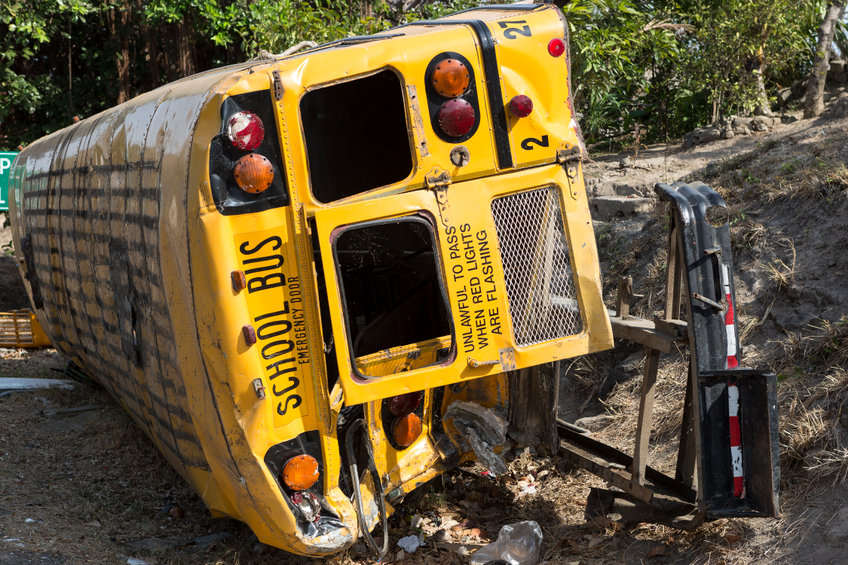 Illinois bus accidents are all too common. In fact, there were 1,227 crashes involving school buses alone here in 2019. These crashes caused 216 injuries and 1 fatality of a school aged- passenger. In the same year, almost 3,100 accidents occurred involving other kinds of buses, causing 630 injuries and two deaths.
When you consider all of the city passenger buses, school buses, and Chicago Transit Authority (CTA) buses all within Joliet city limits, these numbers come as no surprise. If you or a loved one were injured in such a wreck, contact a Joliet bus accident lawyer sooner rather than later. A lawyer will be able to determine who is liable for your injuries, what amount of compensation you're owed, and how to secure a settlement from the insurance company.
If this sounds like a complicated process, know that it can be without the help of an experienced law firm. Our Joliet personal injury legal team at Lerner and Rowe Injury Attorneys is always on call and ready to offer you assistance after an accident. So, don't hesitate to get the help you need when you need it most. The call, chat, and case review are free, and you don't pay a dime until we win your case.
---
What Causes Bus Accidents?
There are many situations that can cause a bus accident. For example,
A bus driver might get behind the wheel while intoxicated.
He or she may drive drowsy, and fall asleep behind the wheel.
The employer of the bus driver may not have trained their drivers adequately.
The employer of the bus driver may have failed to keep up on routine drug testing.
The bus company might have pushed the bus driver too hard, or failed to provide breaks, resulting in fatigued driving.
The weather may cause dangerous road conditions.
A bus part manufacturer may have made a part that easily breaks, or installed a part that is defective in some other way.
Determining the cause of a bus accident injury case is just one of the many ways a Joliet personal injury attorney helps settle Illinois bus accident lawsuits.
Once the "who" is established, they can then work on helping prove the extent of your bus accident injuries.
Common Bus Passenger Injuries
Bus collision-related injuries may affect pedestrians, bicyclists, passengers in other vehicles, and motorcyclists. Those injured in this way can also seek financial compensation for their injuries by working with Lerner and Rowe Injury Attorneys.
But bus accidents can also cause significant injury to the passengers inside the bus. Some common bus passenger injuries include:
Traumatic brain injury
Internal organ damage
Nerve damage
Broken bones
Cuts and lacerations
When it comes to typical block-to-block passenger bus transportation, the injuries caused during a wreck may be more minor. However, when a school bus, CTA bus riders, or passengers on an interstate bus trip travel at high speeds, injuries can be much more severe. In some instances, injuries may be catastrophic, or even lead to wrongful death.
---
How Can a Joliet Bus Accident Lawyer Help?
When any injuries happen at the fault of another party, a personal injury lawyer from Lerner and Rowe Injury Attorneys may be able to help you seek financial compensation. We'll start building your case by asking important questions like:
Does the bus driver hold the appropriate license?
Should the bus have been operating during the given weather conditions?
When had the bus been serviced last?
What and who else contributed to the crash?
In our search for answers, we will collect evidence to prove who exactly was liable for your injuries. Then, we will consider the financial toll the crash has taken on you and your family.
After determining an appropriate compensation amount, we will draft a demand letter, and fight the liable party's insurance company on your behalf. Of course, when dealing with a bus company, this process might get complicated. But, don't worry—if your case needs to go to trial, we will represent you and your family's best interests in and out of the courtroom.
---
Work with the Joliet Personal Injury Attorneys from Lerner and Rowe
So, if you are looking for a Joliet bus accident lawyer, look no further than Lerner and Rowe Injury Attorneys. We handle cases of personal injury and wrongful death law. And, as motor vehicle accident lawyers, we also deal with all kinds of personal injury cases that occur on Illinois roads, including:
Our legal team is here for you 24/7, even on weekends, as a part of our commitment to providing excellent legal and non-legal services throughout the personal injury lawsuit process. In fact, one of the most valuable non-legal services we provide is carrying the emotional burden of our clients so that they can focus on recovery.
To claim your free legal consultation, call 708-222-2222, fill out this FREE online form, or use our handy LiveChat feature. You'll be connected with a knowledgeable representative who will help you set up your no obligation, complimentary consultation. There's no fee until we win your bus accident injury case, so call us today.