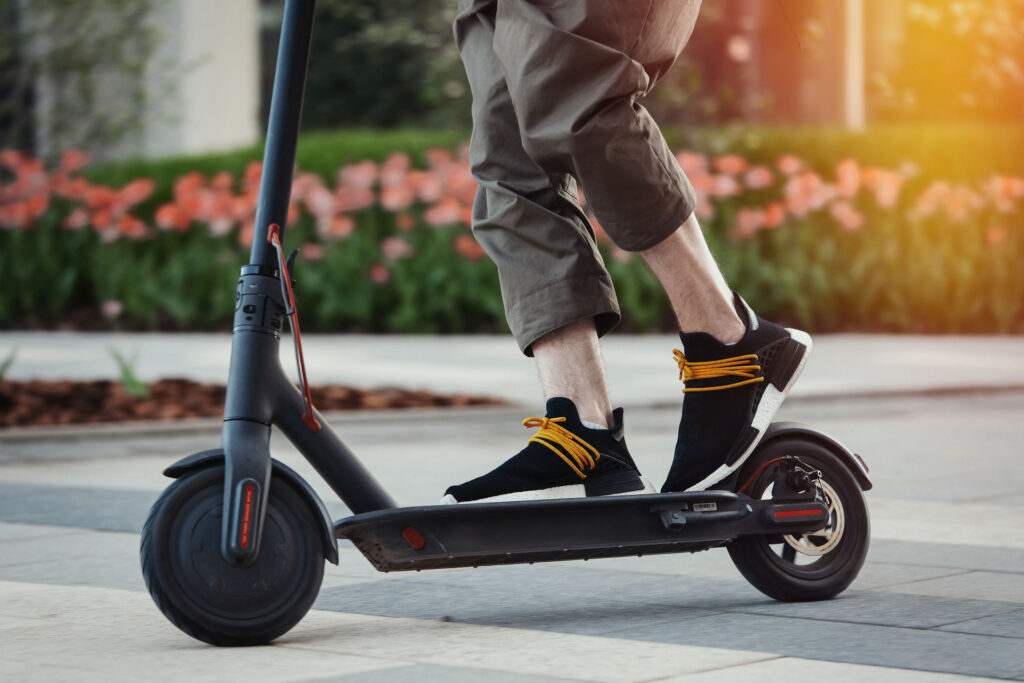 Electric scooters are all the rage, but do they have a place on Las Vegas roadways? Some Nevada lawmakers aren't so sure. While local laws concerning scooters are still in development, those who have been injured by or on e-scooters and who are seeking compensation need representation by a competent scooter accident lawyer like those at Lerner & Rowe Injury Attorneys.
What Is an Electric Scooter?
Electric scooters, also called e-scooters or dockless scooters, are the product of a relatively recent phenomenon which has taken the world by storm in the past few years. Simply put, an e-scooter is a portable, two-wheeled, electric-powered version of a regular non-powered kick scooter.
Obviously, electric scooters can go much faster than your average kick scooter (some can go faster than 50 mph) with much less effort on the rider's part. This has made e-scooters especially appealing to commuters in urban areas who don't want to sit on crowded public transportation or who want to reduce their carbon footprint. The rise of e-scooter rental companies like Bird and Lime means that these scooters are accessible to almost everyone with a smartphone, provided they are over the age of 18.
Are E-Scooters Legal in Las Vegas?
This is where lawmakers can't seem to agree. The Nevada Department of Motor Vehicles does not explicitly mention or offer its own definition of electric scooters—that is to say, there is no way to determine how they should be regulated on Vegas streets.
Electric scooters also don't fall under any already-existing motor vehicle definitions, since they differ from cars, motorcycles, and even mopeds. Some have suggested it might belong to the same class of vehicle as electric bicycles, which are legal and regulated in Nevada.
Per NRS 482.0287, electric bicycles have two to three wheels, fully operable pedals, and are propelled by a small electric engine that can go no faster than 20 mph. While this definition approaches the concept of an e-scooter, electric scooters do not have pedals, meaning they may not be recognized as a bicycle under the law.
Will Las Vegas Have its Own Pilot Program?
Electric scooter pilot programs have been rolled out in various large cities throughout the United States, including San Francisco, Chicago and Nashville. A failed Lime pilot program in Reno, Nevada ended in September 2018 after the city sent a cease and desist to the scooter-share company because of the unclear laws surrounding e-scooters.
In June of 2019, Governor Steve Sisolak signed Assembly Bill 485 into law, which gives individual cities and counties in Nevada license to create their own regulations regarding electric scooters. Despite this measure, none of the major players in the e-scooter rental business have yet made their way to Las Vegas.
The new bill proposes defining an electric scooter as "a vehicle with handlebars and an electric motor that is designed to be ridden in an upright or seated position and propelled by its electric motor or by propulsion provided by the rider." The bill also specifies that an electric scooter must not weigh more than 100 pounds or exceed speeds of 20 miles per hour. Additionally, it stipulates that electric scooter riders will have the same rights and responsibilities as bicyclists, and must be at least 16 years of age.
Despite the new state law, no cities have yet passed their own ordinances regarding electric scooters, nor has Bird or Lime made any announcement of coming to the valley anytime soon. However, both Henderson and Summerlin have reportedly been in talks with scooter-share companies about short-term pilot programs.
Who Is Liable for Electric Scooter Accidents?
According to the assembly bill, electric scooter riders are subject to the same traffic laws as those who ride traditional bicycles or electric bicycles. Drivers of motor vehicles must allow electric scooter riders no less than three feet when passing, and must remain in the lane to the left of the scooter rider when possible. Drivers may not enter paths designated for bikes or scooters and must yield the right-of-way to any electric scooter rider in said lane or pathway.
By the same token, electric scooter riders must yield the right-of-way to pedestrians just as a motor vehicle would. Other cities with pilot programs have noted increased emergency room visits due to scooter accident injuries, including pedestrians and bicyclists injured by scooter users riding recklessly or while under the influence of an intoxicating substance. Scooters are not allowed on sidewalks in any of the pilot program cities.
If you have been injured in a scooter accident, either as a rider, pedestrian or cyclist, you may be entitled to compensation. A scooter accident lawyer from Lerner & Rowe Injury Attorneys will review your case, determine liability, and develop a winning strategy.
There are many different factors that can contribute to liability in a personal injury case. You may be able to file a claim against a motor vehicle driver, an electric scooter rider, an electric scooter-share company, etc. depending on whose negligence or recklessness ultimately caused the accident and resulting injuries.
What Types of Compensation Are Available?
Those involved in electric scooter accidents may suffer from a myriad of bodily injuries ranging from minor to life-threatening, including, but not limited to:
Cuts and bruises
Muscle strains
Torn ligaments
Broken bones
Concussions
Traumatic brain injuries (TBI)
Medical care for these injuries can become expensive very quickly. A Lerner & Rowe Injury Attorneys scooter accident lawyer can help you recover damages for the following:
Medical bills
Rehabilitation
Lost wages
Pain and suffering
Emotional trauma
Quality of life reduction
To find out more about how a Las Vegas scooter accident lawyer can help you, we encourage you to reach out to us.
How Do I Contact a Scooter Accident Lawyer?
At Lerner & Rowe Injury Attorneys, we understand that being injured because of the negligence or recklessness of another person can be a traumatic and overwhelming experience. With electric scooters being so new to our city, you may not know where to turn for help or what your rights are. Contact us today and we will connect you with a competent scooter accident lawyer who has a thorough knowledge of the new electric scooter laws and can help you recover the compensation you deserve.
You can visit us at our office Monday through Friday, 8:00 a.m. to 5:00 p.m., give us a call at 702-877-1500, chat with one of our representatives online, or submit a free case review 24/7.