Car accidents can come out of nowhere, happen in a split-second, and shatter your life. Victims of a car accident must grapple with the financial, physical, and emotional repercussions of the event, plus protect their legal rights to assert a claim for injuries. During such times, victims need an experienced Las Vegas car accident lawyer to guide them through the complex process.
Lerner and Rowe Injury Attorneys can help you today. To get started on your case or discuss the what steps you should take, consult with a Las Vegas car accident lawyer with our firm.
After a car accident, there are many issues to deal with, including: recovering from the injuries and pain suffered in the accident, paying for medical bills, addressing requests from the other driver's insurance companies as well as the routine life demands that existed before the accident.
Insurance companies know that accident victims are under pressure to quickly get back to their daily life, and offer minimal settlement amounts hoping to end any claim quickly.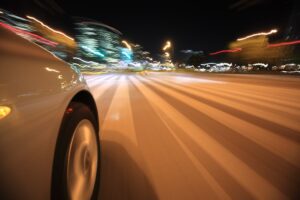 Although tempting, these initial offers are always well below the true value of the claim and can happen before an injured victim fully understands the extent of their injuries and the medical treatment they may need.
Even if the other vehicles involved in the accident were not totaled, the damage to the driver and passengers – both physical and psychological – can be substantial. A fender bender can also lead to major injuries, some of which become evident only after some time has gone by. It is uncertain of what issues may appear following an accident, but symptoms can range from mild to severe.
This includes mild symptoms such as difficulty sleeping, chronic headaches, forgetting things or difficulty staying organized may be an indication of a traumatic brain injury.
Nevada – NOT a "No-Fault" State
Nevada is a fault state – that is, the state's laws do not restrict an injured party's right to sue and recover for their injuries.  The person who caused the accident is liable for injuries, vehicle damage, and other losses that result.
For these reasons, those involved in a car crash need to speak with a car accident attorney in Las Vegas as soon as possible after an accident. Our lawyers can explain the realities of a situation, including claims to be made, the insurance policy against which the claim may be asserted, and the procedure for building and asserting a claim. An accident injury lawyer will also begin collecting important evidence to support the claim.
Other parties involved may also seek legal representation and, along with the other insurance company, will likely begin building a defense to any claim almost immediately after the accident. Accident injury victims need to seek the advice and counsel of a Las Vegas car accident lawyer to protect their rights and also, build their claim.
Million Dollar Results
$10,000,000
Motorcycle Accident