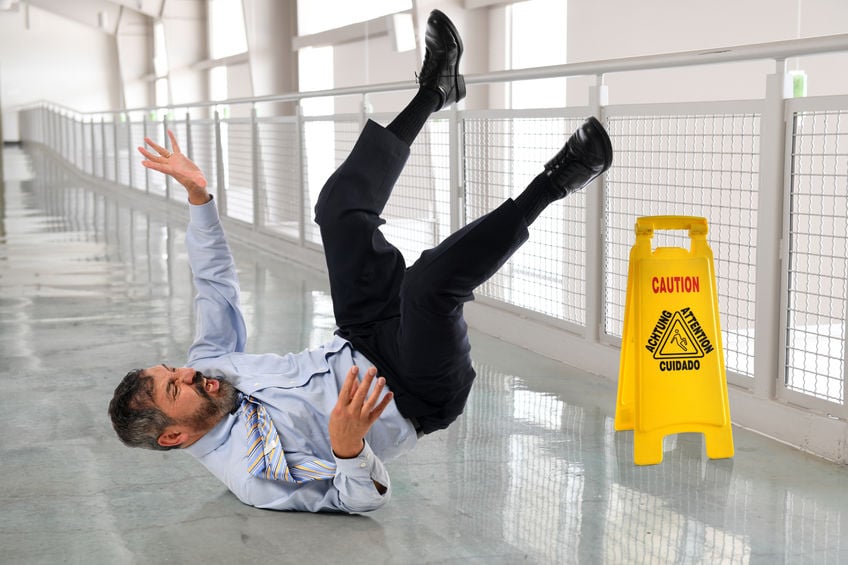 People across the United States are constantly on the go. Whether it be at home, work, or a public place, they are always moving and looking to get ahead in the world. This constant activity can lead to varying types of accidents that can cause a personal injury. A slip and fall is a common type of accident.
Slip and fall accidents account for over one-million emergency room visits each year. A lot of these emergency room visits are due to working conditions where employers do not meet safety standards. According to the US Bureau of Labor Statistics, 22 percent of workplace slip and falls result in an average of 31 days missed workdays.
The work missed, combined with the nearly $70-billion dollars spent per year on compensation and medical care, proves that slip and falls are not only costly, but are extremely dangerous and can result in serious longstanding medical issues.
If a person has suffered an injury due to a slip and fall, they should retain the services of a Chicago slip and fall lawyer who will review the facts of their case and work hard to get them a financial settlement that reflects the amount of pain and lost wages that they have endured.
Determining Liability
Slip and falls occur when a person injures themselves after tripping or slipping while on another's property. However, in order to prove that another party is responsible for a person's injury, they must prove liability based upon Illinois negligence laws.
In Illinois, a slip and fall case is subject to the Premises Liability Act. The owner of the premises owes a duty of reasonable care regarding the state of the premises or acts done. The duty of reasonable care owed by a grocery store may be different than owed by a bowling alley. The determination of liability for a slip and fall case is greatly dependent on the facts of the case. Each slip and fall case presents a different set of factual challenges and legal issues.
Degrees of Negligence
Illinois allows a person to sue multiple parties based on liability laws enacted by state legislation. A person may sue every party that played a part in their injury for the full amount of damages. Of course, an injured party may only recover for their injuries once.
However, the responsibility to pay the damages incurred may be divided among the multiple defendants in accordance with their respective percentage of fault for the accident.
Fighting for the Injured
A serious injury caused by a slip and fall can devastate a person and their entire family. The inability to continue working combined with medical bills can create a burdensome financial strain. A person should never have to fear for their family's future because of an accident caused by another party.
Involved in a slip and fall and suffered an injury due to the negligence of an employer or a business? Contact a Chicago slip and fall lawyer today. Especially one that will know how to address the specific circumstances of your case. We will help you secure a fair settlement.
Our office hours range from 8:00 a.m. to 5:00 p.m. Monday through Friday and we answer our phones at 708-222-2222 24/7. If you prefer, we have an online form you can use or you can utilize our LiveChat service as well. We look forward to hearing from you.