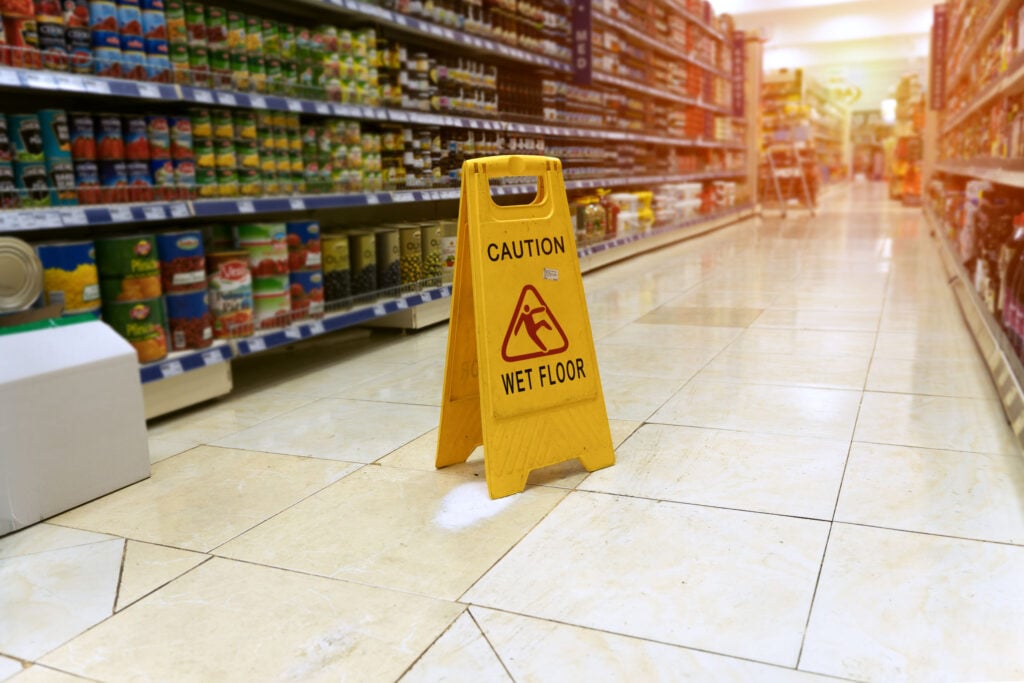 As with many accident injuries, slip and falls can catch you by surprise and cause a lot more pain and suffering than you could imagine, including temporary or permanent disability, reduced quality of life, emotional injuries, or an unfortunate death.
According to OSHA, common hazardous causes of slips, trips, and falls include uneven or defective flooring or stairs, poor lighting, liquids, debris, fallen merchandise, and slick surfaces. 
If you slip and fall on someone's property or while on the job due to negligence, you may be entitled to compensation for your injuries and other damages. 
---
Common Slip and Fall Injury Types

After a slip and fall accident, an injured person may experience anything from minor scrapes and bruises to more serious life-altering injuries.
Seven types of slip and fall injuries include:
Soft tissue injuries (cuts, bruises, and swelling)
Hip fractures and other broken bones
Sprained wrists and/or elbows
Knee, ankle, and/or foot damage
Concussions and traumatic brain injuries (TBI)
And if a person is taking a blood thinner or other medications, bodily harm suffered can be even more severe than in someone without health complications.
---
What to Do After a Slip and Fall Accident?
What you say and do immediately following a slip and fall accident may greatly impact your injury claim. Our Alabama personal injury attorney suggests that you do the following things to benefit your overall health and the outcome of your case.
Seek medical treatment immediately after a slip and fall accident
Help preserve evidence by taking photos of any injuries, the accident scene, and surrounding as soon as possible
Report the accident to the property owner/manager or your employer
Get witness testimonials and write down what you remember to reference later
Do not make any statements that might be taken as an acceptance of blame
Stay off social media
Call an attorney
---
How Do You Prove Negligence?
To prove negligence and win a slip and fall case, you need to establish your injury was the result of an unsafe condition due to the negligence of a property owner/manager or employer. In the state of Alabama, a variety of factors can complicate the process of proving negligence when filing a slip and fall case.
Three common deterrents include:
Not being able to firmly establish the burden of proof. (Did they actually cause or fail to prevent the slip and fall accident?)
Your relationship to the alleged negligent party.
Defense alleges that you likely caused the accident through your own carelessness under Alabama contributory negligence law.
A personal injury attorney well-versed in Alabama premises liability will know how to prove negligence by investigating the accident, preserving supportive evidence, and gathering the correct documentation (to include medical documentation) that shows your injury was not the result of a pre- existing physical or mental health condition, alcohol, age, or failing eyesight. 
---
How Much Time Do I Have to File a Slip and Fall Claim in Alabama?

Per Alabama Code § 6-2-38, you have up to two years to file a slip and fall injury "civil lawsuit" based on another party's negligence. This deadline applies for slip and fall accidents that happen on public or private property, or that result in a wrongful death.
You also have up to two years to file a workers comp claim from the date a work-related slip and fall injury occurs or the manifestation of symptoms from your injury.
More importantly though, you should not delay in reaching out to an attorney. Doing so could result in a loss of valuable evidence and witness accounts that could be used to strengthen your injury claim.
---
How an Alabama Personal Injury Attorney Can Help
Not all slip and fall cases are the same. Some can be settled outside of court, while others are more complex and may end up in court. Either way, our Alabama personal injury attorney at Lerner and Rowe will take the time to walk you through each step of filing a formal complaint, demanding just compensation to resolve the case, preparing the details of your claims during the pretrial discovery period, discussing settlement terms, going to trial if no settlement can be made out of court, and then collecting payment once a judgement has been reached.
As you can see, all of the steps to filing a slip and fall claim take time, resources, and a proper understanding of how premises liability cases are handled in Alabama. That is where working with a personal injury attorney can help.
Call 844-977-1900 or use our LiveChat feature today for a free consultation to learn how our experienced Alabama personal injury attorney can help you during your time of need.
You should also know that our Alabama slip and fall lawyer, Brian Plant, handles all premises liability cases on a contingency fee basis, which means our law firm will not charge you a fee until and unless we make a recovery for you. Ultimately, you have nothing to lose and a lot to gain by contacting us today.