When you require results after a serious and catastrophic injury accident, contact our skilled Alabama personal injury attorney.
Catastrophic injuries often involve an accident that occurs suddenly, resulting in serious damage or suffering to the victims. Reaching a full recovery after such an accident does not always happen, which in turn leads to loss of income and may require long-term care for a life-altering disability. Finding an Alabama catastrophic injury attorney with a proven record for representing serious injuries is essential to protecting your interests and obtaining fair compensation for injuries, losses, and other damages.
Contact Lerner and Rowe Injury Attorneys today at 844-977-1900, or submit an online contact form to schedule a free consultation. Our Alabama licensed personal injury lawyer Brian Plant represents clients throughout the state.
Three Different Types of Catastrophic Injury Accidents
Catastrophic injuries are often the result of negligence, either in the development of a dangerous product, careless action of an entity, or the willful misconduct of an individual. The most common types of catastrophic accidents are:
Vehicle collisions. According to the Alabama Department of Transportation, there were 296,597 total vehicle involved accidents in 2018. Additionally, the most crash-prone time of day in Alabama is 3:00 p.m. – 6:00 p.m. Two of the biggest contributing causes for fatal car accidents are speed and failure to yield the right of way.
Fires and explosions. In 2018, the U.S. Fire Administration (USFA) stated that the Alabama average for fire-related casualties was 2.9 deaths and 6.1 injuries per 1,000 fires, with 3.9% of emergency incidents being equated to fires and 0.1% to explosions.
Defective products. Sometimes a defective product can cause a tragic accident. Whether it is a defective auto part, children's toy, or piece of medical equipment, inadequately designed and manufactured products can be dangerous hazards that lead to catastrophic injuries.
Other types of accidents that can result in a catastrophic injury include boating and jet ski accidents, falls from a great height, sports, and violent crimes.
What Are Catastrophic Injuries?
Catastrophic injuries are severe injuries that might involve a difficult recovery process, multiple surgical procedures, and possibly a lifetime of medical care.
At Lerner and Rowe Injury Attorneys, we have handled all kinds of catastrophic injury cases, including: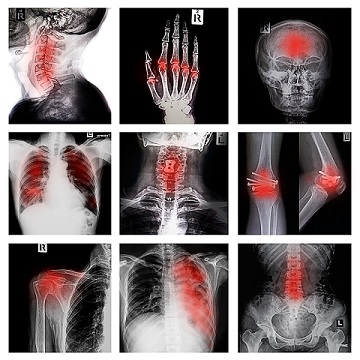 Back, shoulder, and neck injuries
Concussions
Drastic personality changes
Eye injuries
Hearing damage
Loss of limb
Multiple bone breaks or fractures
Organ damage
Paralysis, paraplegia, or quadriplegia
Severe burns
Spinal cord damage
How Loss Is Measured in Catastrophic Injuries Cases
In Alabama, there is no limit on compensatory damages. This means that the amount of financial compensation a court awards you is determined by whatever it determines is appropriate based on personal hardships and the severity of your injury, estimated cost of long-term care, and your current and future financial obligations.
However, Alabama does place a limit on punitive damages of $1,500,000 or three times compensatory damages, whichever is larger. Our catastrophic injury attorney will go over this option if you believe that you can show the other party acted with deliberate and conscious malice, (i.e., harmed you on purpose).
An experienced personal injury attorney is key to helping present a solid case to the court for the to properly evaluate your hardships and injuries, including:
Loss of wages (past and future) that prevent you from earning a wage or taking care of your household
Pain and suffering
Disfigurement
Loss of consortium
Emotional distress
Past, present, and ongoing medical and personal care
Get Compensation for Your Alabama Catastrophic Injury
If you or a loved one suffered a serious injury during a catastrophic accident because of negligence, you would greatly benefit from speaking with our Alabama personal injury lawyer as soon as possible.
Schedule a free consultation today through our LiveChat feature, by calling 844-977-1900, or through an online form 24/7. Our Alabama catastrophic accident attorney and support team are here to assist you when you need help the most.