Law Firm Voted Best of the Valley for Personal Injury
Lerner & Rowe's Attorneys Highly Regarded in Phoenix
We are proud to announce that our Phoenix personal injury lawyers were voted as "Best of Our Valley" in Arizona Foothill Magazine's 2016 reader's poll.
As one of the largest law firms in the state of Arizona – Lerner and Rowe is honored to be recognized as a top legal provider for those who live and work across the Phoenix Valley.  For more than a decade, Lerner and Rowe, P.C. has provided quality representation by listening to clients, being attentive to their needs and aggressively seeking the best possible outcome on their behalf.
If you have been injured due to another's negligence, we encourage you to contact the Phoenix legal team at Lerner and Rowe, P.C. to help ensure that you get the representation you deserve.
Attorneys Who Give Back in the Courtroom & Community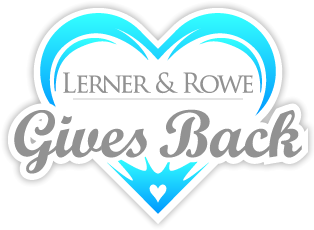 Lerner and Rowe, P.C. goes above and beyond in our commitment to serve and support Phoenix's community members through charitable works and donations. Aside from providing the best possible legal representation, our legal team makes it a priority to actively give back through our non-profit foundation, Lerner and Rowe Gives Back.
It is a momentous achievement to see how much can be achieved when organizations and individuals come together to help others who have less. In 2015 alone, with the assistance of community partners, we were able to raise over $102k to directly benefit underprivileged organizations and individuals throughout Arizona.
Get Free Consultation with Lerner and Rowe, P.C.
Hurt in a wreck?  Then it is important to contact a law firm that can offer you aggressive, quality representation as soon as possible. Lerner and Rowe's dedicated and highly acclaimed legal professionals make us the clear choice for you.
We make helping our clients resolve their legal concerns a top priority. Connect with our Phoenix personal injury law firm by calling  844-977-1900, chatting with a live representative or by submitting a FREE online case review form today.