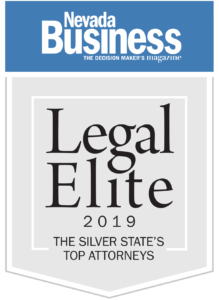 Lerner and Rowe Injury Attorneys shares congratulations for managing attorney Justin Randall on being named among the top 3 percent of attorneys in the state of Nevada who were selected for the Legal Elite 2019 list published by Nevada Business Magazine.
Polling for the distinguished Legal Elite 2019 list began in mid-February with nearly 5,000 nominations submitted by licensed attorneys in Nevada. Then, after an extensive verification process, the top 3 percent of attorneys in the state were then chosen by their peers to be named among the Legal Elite of the state.
In its twelfth year, the Legal Elite annual list showcases the best of the best of Nevada attorneys broken down by location. In addition, Legal Elite includes special lists ranking Nevada's best "Up and Coming" and best government attorneys.
Selection, Verification, & Scoring
The selection process for the Legal Elite 2019 list consists of several levels of verification and scrutiny. First, once the nomination process closes, each ballot is then individually reviewed for eligibility. Next, every voting attorney gets verified with the State Bar of Nevada. Following that verification step, each nominee receives a score based on the number and type of votes received.
After the final tabulations, each attorney with top results goes through another round of verifications. Finally, those who pass the last steps of verification are then contacted to finalize the 2019 Legal Elite list.
Again, special congratulations to Justin Randall and to the other attorneys who were chosen for the Legal Elite 2019 list.