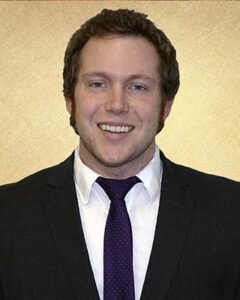 Attorney Jeffrey Gates was born and raised in northwest Indiana. He attended Indiana University in Bloomington, Indiana for his undergraduate education, obtaining degrees in Criminal Justice and English. Jeffrey then attended the Indiana University Robert H. McKinney School of Law in Indianapolis, Indiana.
Jeffrey Gates
During law school, Jeffrey worked at a local law firm as a personal injury litigation law clerk. He spent the first three years of his professional career analyzing policy, reviewing compliance, and then litigating cases of child abuse and neglect.
Jeffrey joined Lerner and Rowe Injury Attorneys in October 2015, handling Indiana personal injury cases. Since then, Jeffrey has recovered millions of dollars for injured Indiana accident victims and Hoosiers. Jeffrey gladly continues to serve his community and also energized by the challenge that each new personal injury case presents. His clients can expect honesty, candor, respect, and humor.
In his spare time, Jeffrey enjoys spending time with friends and family, exercising, watching films, and cooking.
Jeffrey Gates is licensed to practice law in Indiana. Contact him today or the rest of the office, to get help with your case. Our firm answers our phones 24/7 or you can also chat with us on our website. Collectively as a firm, we offer no fee unless you win. Also, free consults.