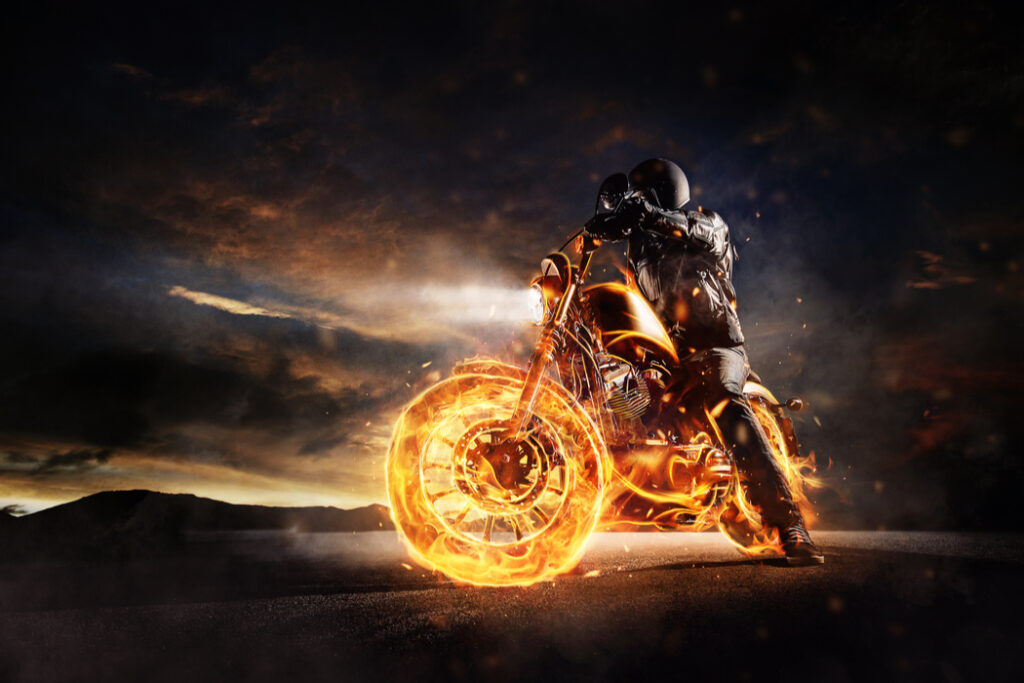 Any motorcycle enthusiast's top concern is typically about safety. In a perfect world, motorcycle accidents would be preventable, but unfortunately they do happen. There are still things you can do to protect yourself. By identifying common causes for motorcycle accidents, you can avoid them. You can also wear safety gear and stay informed about treatment processes. To protect yourself legally in case of an accident, remember the name of Lerner and Rowe when you need a reputable Bullhead City motorcycle accident lawyer.
Common Reasons for Motorcycle Accidents in Arizona
To understand how these type of vehicle accidents occur in Bullhead City, it's important to know some basic facts about motorcycle accidents.
The following list includes a few statistics from the Hurt Report on motorcycle accidents.
A large majority of motorcycle accidents involve a crash with another vehicle.
The driver of the other vehicle is usually at fault among accidents involving another vehicle .
 Error on the part of the motorcyclist tends to cause accidents that do not involve another vehicle, typically as a result of excessive speed.
The most common type of accident involving another vehicle is when an automobile makes a left turn into a motorcyclist.
Drivers who cause collisions with motorcycles often report that they did not see the motorcyclist until it was too late.
Almost every accident involving a motorcycle results in some form of injury to the motorcyclist.
If another driver violates your right away to cause you personal injury, reach out to any of our Bullhead City motorcycle accident lawyers.
Safety Gear for Motorcyclists
Gear such as boots, gloves, jackets, and other heavy clothing can be effective in reducing injuries from motorcycle accidents. It's much more important to make sure that you cover your entire body. The more you coverage you have the less exposed you are to burns and other injuries.
Helmets also greatly reduce the risk of death due to a motorcycle accident. In the state of Arizona, an operator of a motorcycle and riders under 18 years of age must wear a helmet.
Typical Burns Experienced and Treatment Process
Burns are some of the most common injuries experienced from motorcycle accidents. Motorcycle accident burns can come from things like friction, chemicals, or a motorcycle fire. There are long term and short term elements to a successful treatment process for burns sustained during a motorcycle accident.
A patient may need treatment for both physical and mental trauma. While you can treat minor burns at home, the process can be extremely time consuming and expensive for serious burns. The most severe cases might require hospitalization, physical therapy, and even skin grafts.
If the price of your treatment is overwhelming you, contact your Bullhead City motorcycle accident lawyer to see what is available for you. You could receive a settlement that can help you pay for the cost of treatment.
Best Bullhead City Motorcycle Accident Lawyer
If you decide to pursue legal action, look into resources for how to prepare for your personal injury case. A skilled team of personal injury attorneys can help you prepare and keep you informed every step of the way.
At Lerner & Rowe Injury Attorneys, our office hours are 8:00 a.m. through 5:00 p.m., but we are available 24/7 to take your call. Just make one call to (602) 977-1900. You can also reach us through a live chat feature on our website. We're consistently ranked highly by our clients in comparison to other attorneys in Arizona, and offer free consultations. Contact our highly skilled Bullhead City motorcycle accident lawyer team today!
The information on this blog is for general information purposes only. Nothing herein should be taken as legal advice for any individual case or situation. This information is not intended to create, and receipt or viewing does not constitute, an attorney-client relationship.