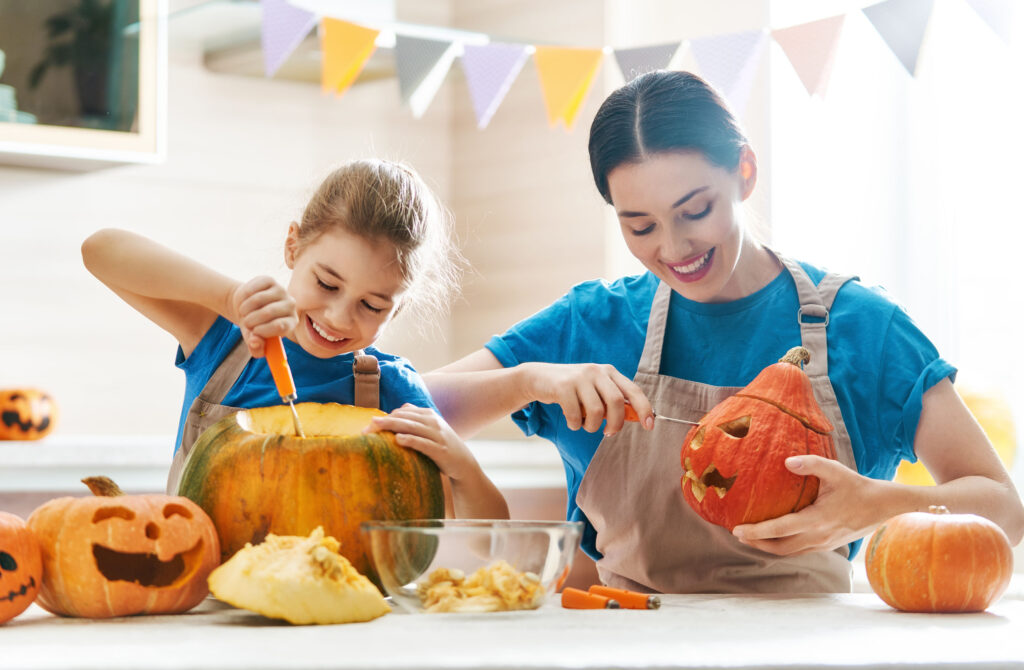 The COVID-19 pandemic has altered the celebration of many holidays. With cases and hospitalizations starting to rise again, many families are being mindful about keeping their families safe during Arizona Halloween. While the Centers for Disease Control and Prevention (CDC) recommends against traditional Arizona Halloween activities like trick-or-treating, the Arizona Department of Health Services (ADHS) hasn't been as stringent with its guidelines.
While it's certainly possible to trick-or-treat safely by using face-covering masks and strict social distancing, there are a number of ways to celebrate Arizona Halloween that are much safer. Here are some activities that your children will enjoy while staying safe.
Have a Pumpkin Carving Party
Turning pumpkins into festive jack-o'-lanterns is a great way to celebrate Halloween. Limiting the fun to your immediate family also helps you stay safe from coronavirus exposure. If you decide to have a pumpkin carving party, one person from the household should purchase pumpkins and they should be cleaned immediately. Also be sure to use child-safe carving tools and inspect them for dangerous product defects.
Bake Some Halloween and Fall Treats
Baking some Halloween-themed cookies is almost as much fun as devouring them. You can get creative by shaping cookies to resemble pumpkins, witches' hats, ghosts, and more. Since Fall has begun, it's also a great time to bake some traditional autumn pies.
Between pumpkin, sweet potato, and pecan, there's bound to be something your family will love. Be sure to take safety precautions against burn injuries while you're making these delectable treats.
Host a Halloween Movie Marathon
From truly frightening films like The Exorcist to wholesome family features like It's The Great Pumpkin, Charlie Brown, Arizona Halloween is perfect for a movie night. Thanks to new technology, you can even watch films with friends and family across the country.
Popular services like Netflix, Hulu, and Disney Plus have built-in "watch party" features that allow you to chat with friends on screen while watching a movie. Third-party apps like Scener work with a number of streaming services. These services are a great way to watch movies with your nearest and dearest while social distancing.
Have a Virtual Costume Contest
It's easy to have a virtual costume contest thanks to popular video chat services like Apple Facetime, Google Hangouts, and Zoom. You can arrange a virtual contest with your children's families to see what spooky costumes they've chosen this year.
Online educational services like Zigazoo are hosting national Halloween costume contests for your children to enjoy. Virtual costume contests are a great way to celebrate the pageantry to Halloween while staying safe.
Have a Safe Arizona Halloween
The team at Lerner and Rowe hopes that your family makes the most out of this very unusual Halloween. Please do everything you can to keep your family safe and consider some of the alternatives mentioned above.
If you do partake in traditional Halloween activities, be on the lookout for typical holiday injuries. With higher-than-normal foot traffic, Halloween usually has more slip-and-fall injuries than normal. Contact us for immediate assistance should you or a loved one suffer a personal injury on Halloween.
You can reach Lerner and Rowe 24 hours a day, 7 days a week by phone at 602-977-1900. We're also available through the Internet via LiveChat and encrypted online form. Consultations are free and we do not charge any fees unless your case is won. For experienced personal injury attorneys that treat you with compassion and respect, Lerner and Rowe is the way to go.
The information on this blog is for general information purposes only. Nothing herein should be taken as legal advice for any individual case or situation. This information is not intended to create, and receipt or viewing does not constitute, an attorney-client relationship.