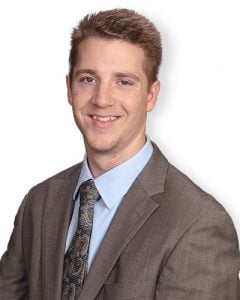 Andrew Gartman is one of Lerner & Rowe's litigation attorneys, charged with taking cases to trial when the insurance companies refuse to settle. He represents civil asset forfeiture and personal injury cases.
Mr. Gartman is an Arizona native who grew up on a ranch just north of Phoenix.  In 2009, he graduated from Arizona State University (ASU). He focused his studies on political philosophy, interpersonal communications and symbolic logic.  After graduating from ASU, Mr. Gartman spent a year exploring the backcountry of Colorado before returning to Arizona to attend law school.
Mr. Gartman graduated from Phoenix School of Law in 2013. There he focused on becoming a trial lawyer while learning the ins and outs of Arizona's forfeiture laws.  During his last year of law school, Mr. Gartman authored an article on the constitutionality of Arizona's forfeiture statutes, which challenged the State's ability to forfeit an individual's property without providing adequate notice to the property owner.
After law school, Mr. Gartman continued his pursuit to become a trial attorney.  He began his legals career practicing complex civil rights litigation. He almost exclusively handled §1983 cases, representing individuals against governmental entities, and participated in numerous jury trials before the Arizona Superior Courts and the U.S. District Court.
In 2017, Mr. Gartman made the decision to join the litigation team at Lerner & Rowe, P.C., where he continues to represent personal injury victims and property owners in civil asset forfeiture cases.  Mr. Gartman is among a few attorneys in Arizona who, not only understands Arizona's forfeiture statutes, but who is also dedicated to helping individuals get their property back.  He has successfully represented numerous forfeiture victims in almost every county in Arizona, and before the Arizona Court of Appeals.
Mr. Gartman has been a member of the Arizona Bar since 2014 and is licensed to practice law in the United States District Court, District of Arizona. He is also a member of the Arizona Association for Justice/Arizona Trial Lawyers Association, the National Police Accountability Project, the ACLU and the Institute for Justice, Asset Forfeiture Division.
His personal interests include volunteering/fostering with the Lost Our Home Pet Foundation and the Southwest White German Shepherd Rescue. He also enjoys exploring the outdoors as much as possible with his girlfriend Lyndsey, whether it be hiking and camping, or riding his motorcycle and horses. Currently, they reside in northern Phoenix with their two German Shepherds, Buddy and Marnie.
Email: [email protected]
Published Work:
Chronic Traumatic Encephalopathy: The Developing Legal Case Against High School Football