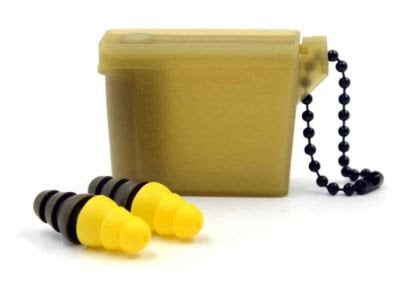 As a servicemember, you expect to be provided proper equipment when preparing to go into combat. From the boots on your feet to the helmet on your head, everything needs to fit properly and protect you against mechanical and environmental elements.

Unfortunately, between 2003 and 2015, your safety and hearing may have been compromised because of allegedly defective 3M Dual-Ended Combat Arms™ Earplugs.

If you or a loved one were deployed in Iraq or Afghanistan during this time, were issued 3M Company (3M) dual-ended military earplugs during service, and now suffer from permanent hearing loss or tinnitus—you may be entitled to compensation for damages.

At Lerner and Rowe® Injury Attorneys, our legal team is available 24/7 to help our servicemembers seek fair compensation for their injuries from 3M Company's defective earplugs. Get a free, no obligation consultation today! Hurry, as time restrictions may apply.
Six 3M Dual-Ended Combat Arms™ Earplugs Lawsuit Facts
If you were one of the service members affected, read on to learn more about the 3M earplugs lawsuit and how Lerner and Rowe Injury Attorneys can help you.

Product: The 3M Dual-Ended Combat Arms™ Earplugs (CAEv2) listed in recent lawsuits were designed as dual-ended cones. Each cone had a unique color to indicate a certain level of noise protection for the wearer. Unbeknownst to the wearers, the earplugs could loosen imperceptibly in their ears. This loose fit exposed military personnel to damaging noise levels that contributed to permanent hearing loss. Tinnitus, or constant ringing in the ears, is another possible side effect of the damage that these earplugs caused.


Allegations: A False Claims Act lawsuit filed in March 2016 alleges that the military contractor, 3M, knowingly sold defective combat arms earplugs to the United States Defense Logistics Agency between 2003 and 2015. The "known" defects did not meet military safety standards as claimed and were said to cause the development of permanent hearing loss/tinnitus in wearers.

During an independent investigation conducted by the U.S. Department of Justice, the DOJ discovered that the 3M Dual-Ended Combat Arms™ Earplugs did in fact have a design defect and were ineffective in properly blocking loud noises.


Settlements and outcomes: The U.S. military was awarded a $9.1 million settlement in July 2108 to resolve allegations that 3M was guilty of consciously selling defective combat arms earplugs to the Defense Logistics Agency without disclosing that said earplugs could result in wearers developing hearing loss and/or tinnitus.

However, this settlement amount only covers financial losses of the Defense Logistics Agency; it does not cover individual hearing loss or other damages suffered by servicemembers. Servicemembers must file individual lawsuits to seek compensation for permanent hearing loss/tinnitus.


Time frame: To qualify for possible earplugs lawsuit compensation, you must have served in the U.S. Military between 2003-2015 and experienced hearing loss AFTER using standard issue 3M Company (3M) combat arms earplugs. Time restrictions may apply, so please contact Lerner and Rowe immediately; you may be entitled to compensation.


Cost to you: You are never charged any fees or costs unless you first recover compensation for your injury claim—including your initial case evaluation. If you believe you meet the criteria and deserve compensation, contact Lerner and Rowe today for more information about a 3M earplug lawsuit.


Attorney Jim Rolshouse: James Rolshouse, SFC US Army Ret. served as the Brigade Medical NCO with the 1st Brigade Combat Team in Iraq 2006-2007. He also suffered hearing loss from defective 3M earplugs. Today as a retired servicemember, James continues to look after military personnel and their families by protecting their legal rights.

That dedication to protect translates into a fearlessness in going after any deserving compensation for permanent hearing loss/tinnitus caused by 3M's faulty earplugs.
Servicemembers, Lerner and Rowe Injury Attorneys Want to Help You!
Do you believe that you have a potential lawsuit for hearing loss due to 3M Dual-Ended Combat Arms™ Earplugs? Do you believe you deserve compensation for pain and suffering caused by this faulty product? Then call us toll-free anytime at 844-977-1900 or submit a contact form to connect and learn more today! We'll help you find answers and further discuss what compensation you may be entitled to. Additionally, you can get in touch with us via our LiveChat feature.

The information on this blog is for general information purposes only. Nothing herein should be taken as legal advice for any individual case or situation. This information is not intended to create, and receipt or viewing does not constitute, an attorney-client relationship.